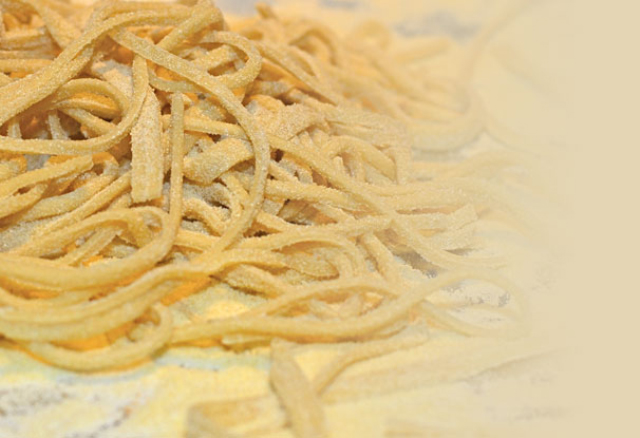 We all knew that chef Wade Moises knew his way around pasta, thanks to his stint at North Scottsdale's Sassi. With his own restaurant, PastaBar in Phoenix, we know just how passionate Moises is about pasta–he devoted an entire restaurant to it, for Pete's sake. And diets be darned, I enjoyed every last carb-filled morsel during my visit last week.
First of all, I loved the interiors with its Italian-inspired color palate (though not red, green and white overkill) with funky contemporary artwork gracing on the wall. The long bar was the centerpiece of the dining area, and we took a seat at the comfortable extended booth. For appetizers, my colleague and I shared two salads: one with local lettuce, Queen Creek Olive Mill olive oil and lemon and one with buffalo mozzarella, heirloom tomatoes, anchovies and basil pesto. Both were incredible. Even the simple combo of the first salad made a big impression–it was so very fresh and flavorful. The mozzarella was downright addictive and the tomatoes were wonderfully refreshing. Some bread would have been nice to sop up the extra pesto.
For our main meal, we opted for PastaBar's simple, straightforward Bavette al Cedro and the chef-suggested Fettucine e Finocchio, each sided with warm bread. (All of the pasta at PastaBar is made in house.) The first dish showcased lemon, Italian butter and Parmigiano–a lovely, summer-friendly dish that would have been great with the addition of shrimp or calamari. (Diners can order several sides, in addition to shrimp and calamari–think sausage, pork shoulder, lamb and meatballs.) The latter fettuccine plate had both texture and taste going for it. The dish swirled with fennel pesto, raisins, pine nuts, hot peppers, anchovies and lemon. Moises said this dish can be a bit polarizing: Some people love, love, love it; others hate it. My colleague and I were both on the adoration side. Did I mention the colorful dish was mighty pretty as well?
For dessert, we had espresso granita–what a great way to cool down! We also dug into a slice of limoncillo cheesecake. It was topped with candied lemon peels and was tangy, sweet and light (a great summertime cheesecake). I also want to mention that the portions at PastaBar are perfect–unlike most Italian restaurants. Diners won't be put off by heaps and heaps of gut-busting pasta. Instead, they'll get a workable portion at an appropriate price. Gotta love that, especially when it comes to pasta. 705 N. First St Suite #110, Phoenix, 602.687.8704, http://www.pastabaraz.com/.