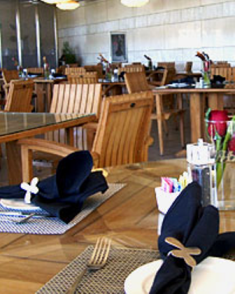 We don't need to tell you that Neiman Marcus is one of Scottsdale Fashion Square's top places for the latest fashions. However, you might not be aware that the chic shop is also home to a delicious, casual eatery, NM Cafe–perfect for a weekend shopping fuel-up or a business lunch on the weekdays.
To find NM Cafe, you'll need get to the first floor. Beyond the purses and menswear, you spot the cafe. The interiors sport a contemporary nautical theme with glass tiles, in shades of the sea, lining the walls. I suggest taking a spot on the spacious, open-air patio. Even during our warm, lunchtime visit, the patio remained pretty brisk, thanks to the misting system and powerful fans. Plus, the white sheets that surround the patio are just so pretty blowing in the breeze and adds to the relaxed atmosphere.
The menu at NM Cafe at Scottsdale Fashion Square is heavy on salads and sandwiches, with a few soup selections and samplers thrown in. Some of the menu items include a Baja chicken salad; a steak and gorgonzola concoction for a more hearty lunch; a summery bistro salad with apples, sweet pecans and raisins; a cafe cheeseburger; a warm beef dip with fries; and a divine-sounding mandarin orange souffle. I opted for the almond-crusted trout salad while my co-worker had a plentiful shrimp Cobb salad (which was a menu special that day). I was very impressed with my salad of mixed greens, melon salsa (I would loved to have this in bottled form) and two sizable filets of trout that were lightly coated in almonds. All in all, it was a rather healthy and light–though filling–lunch. My co-worker's shrimp-laden Cobb salad was also large, chock-full of fresh tomatoes and avocado. It left her full for the rest of the afternoon.


While our meals were great, it was the delicious complementary popovers, served prior to our meal, that truly stole the scene. The NM Cafe popovers were crisp and flaky on the outside and warm and soft on the inside. The accompanying strawberry butter was the perfect partner for these doughy delights. (Again, I wished I could have bottled up the strawberry butter. Great for scones, I think.) And if you're looking more to relax post-shopping, rather than refuel, NM Cafe also has a nice menu of wines and desserts which includes chocolate chip cookies (you can even get the recipe here), ice cream and cheesecake. 6900 E. Camelback Rd., Scottsdale, 480.990.2100 x 2068.