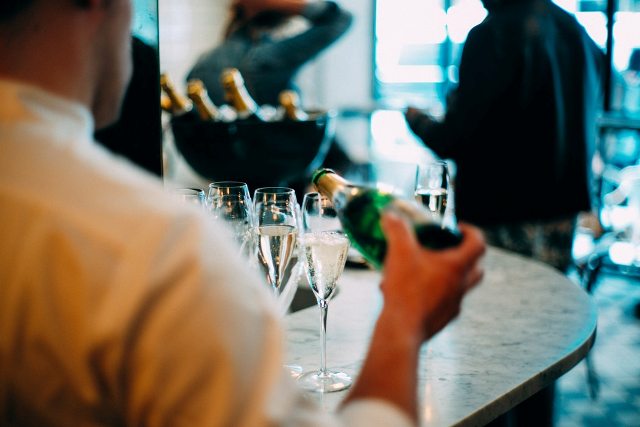 Count down to 2020 with some serious scrumptiousness at these Valley dining destinations. (Reservations are required in most instances.)
Guests can ring in 2020 with a sophisticated sit-down affair at elements or celebrate the end of the decade at jade bar. Presenting a four-course, prix-fix menu by Chef MacMillan, elements will offer two seating times. The first will take place from 5:30 to 7:30 p.m.; the second from 8 to 10 p.m. Meanwhile at jade bar, the New Year's Eve dance party begins at 9:30 p.m. and goes on until 1:30 a.m., complete with a dance floor and live music.
Residents and visitors alike are invited to celebrate the closing of one year and the beginning of a new one with an eventful New Year's Eve dinner at Match Restaurant & Lounge at 5:30 p.m. Chef Orlando Parker presents a memorable four-course prix-fixe menu with options like Pernod Rockefeller oysters, surf and turf, Luxardo cherry beef and more. 
Mowry & Cotton is serving up a NYE Dinner Feast for guests followed by music, dancing, party favors and a full-scale celebration. Dinner reservations are available from 5 to 6:30 p.m. and again from 7:30 to 10 p.m., and guests can enjoy music and dancing from 7 p.m. to 1 a.m. thanks to the Michael Land Band and DJ Kim E. Fresh. Pop into the Phoenician Tavern from 7 p.m. until 12:30 a.m. for an all-ages affair with an 80's twist. Think themed costumes, 80's arcade games and plenty of other family-friendly fanfare, and it's all up for grabs for just $10 a pop with purchase of food (children 3 and under are free). The Tavern's standard menu will be available for purchase.
Mastro's Steakhouse offers a New Year's Eve midnight celebration with seating beginning at 8 p.m.  The special five-course dinner kicks off with Mastro's signature iced seafood tower.
Ring in the New Year in luxury at LON's at the Hermosa with a four-course exclusive a la carte celebration dinner from 5 to 10 p.m. Plus, enjoy live entertainment until midnight and complimentary valet parking.
Celebrate with a four-course prix-fixe meal at Prado before toasting with a complimentary glass of cava at midnight. Dinner is from 5 to 10 p.m.; Mbar is open until 1 a.m. Then, on New Year's Day, enjoy a holiday brunch from 7 a.m. to 1 p.m.
Count down to 2020 with an early three-course dinner seating from 5:30 to 7:30 p.m. at ZuZu to kick-off your evening, or revel from 9 p.m. to 1 a.m. for late-night eats, live DJ entertainment and dancing, a Veuve Clicquot midnight toast, and specials on bubbly flowing all night long.
Dig into T. Cook's New Year's Eve dinner, which is two distinct multi-course menus, each including a glass of Champagne per adult. Also enjoy live music, a fireworks show and more, with a thrilling "Hindsight is 2020" theme.
Wigwam guests can choose from three NYE celebrations: a special four-course prix-fixe dinner with a glass of sparkling wine at Litchfield's from 5 to 10 p.m.; a family-friendly event at Red's Bar & Grill from 7 to 10 p.m.; or at The Wigwam Bar from 7 p.m. to midnight with live music.
From 5 to 9 p.m., Scottsdale's Voila French Bistro dishes up a festive three-course holiday dinner featuring surf and turf.
From 4 to 10 p.m., Salty Sow will be serving a specialty rib eye steak with ravioli and crab meat served Oscar-style in addition to a goat cheese cheesecake on Dec. 31 only.
Phoenix City Grille is closing out 2019 with a NYE feast, beginning at 3 p.m. Guests can enjoy the following specialty dishes like Chula Seafood jumbo scallops, surf and turf and much more.
Tres Kitchen and Bar invites guests to ring in the New Year with a special four-course prix-fixe menu including steelhead trout, short ribs and much more.
Guests are invited to celebrate New Year's Eve at Urban Margarita with specials on mimosas and entrees like lobster flautas and short ribs. Specials are available beginning at 4 p.m.
Keeler's Neighborhood Steakhouse celebrates with its second-annual New Year's Eve Gala beginning Dec. 31 at 7 p.m. and ending in 2020 at 12:30 a.m. on Jan. 1. The celebration includes dancing, a toast, live music and a buffet dinner featuring selections from Keeler's menu as well as a prime rib carving station, a crustacean station, desserts and two drink tickets (cash bar thereafter). Click here for tickets.
Rusconi's American Kitchen invites guests to close out 2019 with a festive three-course New Year's Eve dining experience on Dec. 31, at 5 p.m. Dishes include pan-roasted Caribbean grouper, buffalo sirloin and much more.
Enjoy New Year's Eve specials at Ko'sin including Champagne lobster bisque, mesquite-grilled filet, pecan-apple-crusted trout and more. Reservations are accepted from 5:30 to 9:30 p.m.
Reserve your spot at Tempo Urban Bistro on New Year's Eve. In addition to its regular menu, the restaurant is featuring a selection of specialty offerings available a la carte from 5 to 11 p.m., including dishes like rack of lamb, Chilean sea bass and bone-in strip steak.
Hash Kitchen dishes up new menu items like the Giant Nutella & Banana Croissant, Skillet Cinnamon Roll and Giant Lamb Beni Croissant for New Year's Day brunch. To celebrate the first of the year (which also happens to be National Bloody Mary Day!), diners can enjoy the  build-your-own Bloody Mary bar (starting at $10) as well as new cocktails like the Disco Bellini.
Blue Clover Distillery is hosting a special brunch buffet for New Year's Day for $10. Diners can look forward to the Southwest Hash Bowl, huevos rancheros, breakfast flatbreads and Farm & Egg Grilled Cheeses, to name a few. Bloody Marys and mimosas will also be available.
The newly opened Condesa will serve a special dinner menu of internationally-inspired dishes with passed trays and grazing stations featuring dishes like lamb kofta, beef short rib with mole and grilled cauliflower from 7 to 10 p.m. on New Year's Eve. Following dinner, Condesa will become a party space from 10 p.m. to 2 p.m. to welcome 2020 complete with music by DJ Phox and a Champagne toast at midnight.
Tomaso's will be open on New Year's Eve for Italian fine dining until 11 p.m. with a variety of specialty menu items to help welcome in the New Year. Returning favorites by include paccheri with lobster, shrimp and broccolini, stuffed veal chop and seafood medley cioppino. 
Zinqué will offer a special New Year's Eve seafood platter for two people at $85 with six kumamoto oysters from Canada, pre-cooked chilled lobster meat from Canada, six  jumbo shrimp from Indonesia, tuna tartare made with sashimi-grade tuna, complete with toasted Poilâne Bakery bread imported from Paris. Restaurant will be open until midnight.
Scottsdale's Voila French Bistro hosts a three-course prix-fixe, wine-paired dinner starting at 5 p.m. that will delight guests with special dishes including smoked salmon, surf and turf of filet mignon and lobster tail and traditional French pastries for dessert.
From 4 p.m. to close, Culinary Dropout guests will enjoy a special cocktail and three-course meal (with a main entree of crab and shrimp risotto), as well as the restaurant's antipasti menu options available a la carte. 
At The Henry, guests can celebrate with a four-course prix-fixe menu from 5 p.m. to close. Dishes include tuna and crispy rice, Korean skirt steak and peanut butter molten cake. 
Doughbird dishes up a festive feast for couples on NYE, starting with a bottle of wine and including eats like herb-crusted salmon, truffle cheese bread and rotisserie bone-in pork loin, starting at 4 p.m.
Celebrate New Year's Eve at Olive & Ivy to drink in the relaxing atmosphere with a glass of Champagne and a three-course prix-fixe dinner (hello, lobster and saffron risotto!). The Scottsdale restaurant's regular menu will also be available. 
Starting at 4 p.m., have a relaxed New Year's Eve with a bottle of wine and seasonal fare at The Greene House. The restaurant will offer a three-course dinner with eats like bacon-wrapped pork tenderloin and sweet chile duck spring rolls. 
Enjoy a glass of Champagne and a three-course prix-fixe dinner at The Arrogant Butcher in Phoenix, with dishes like New York strip and rock shrimp ceviche, starting at 4 p.m.
Ring in the New Year at MODERN OYSTERBAR CHOPHOUSE with live music from 8:30 p.m. to 12:30 a.m. and a Champagne toast at midnight! Reservations are being taken now for seating from 4 p.m. to 11 p.m.
PHX Beer Co. is offering a five-course pairing dinner at its Scottsdale restaurant this New Year's Eve. The event begins at 6:30 p.m.  A member of PHX Beer Co.'s brewing team will be on site to take you through each of the courses.
On New Year's Eve, Mora Italian will be hosting a special prix-fixe five-course tasting menu from 4 p.m. to 11 p.m. Wine pairings are available. This will be the only option for NYE dining at Mora.
Pomelo at the Orchard will be featuring some of its famous specialty entrees, starters and salads, along with a prix-fixe menu. The prix fixe menu includes a welcome glass of Champagne or beer, starter salad, choice of lobster tail or pan-seared filet mignon and one dessert. There will also be signature cocktails, beer, wine and Champagne available for purchase.
New Year's Eve is an all-day affair at Uptown Alley in Surprise. The entertainment venue is offering  a family-friendly party on Dec. 31 from 10 a.m. to 7 p.m. that has fun for the whole family. Then at 7:30 p.m. the party starts for the adults with live music by Retro Connection.
Dave & Buster's at Tempe Marketplace is hosting two parties: the first is for families from 5 to 8 p.m. Two different ticket options offer guests an appetizer buffet, churro station, unlimited soda, coffee and tea, a $20 or $25 power card with unlimited video game play. For adults 21 and over, the Roarin' 20s bash starts at 7 p.m., going until 2 a.m. 
Thirsty Lion Gastropub & Grill will be offering an extensive special menu. A few of the entrees include grilled Atlantic salmon, blackened ribeye steak, filet mignon and grilled shrimp and butternut squash risotto. 
Join Quiessence at The Farm for a special four-course chef's tasting menu featuring seasonal vegetables, herbs, eggs and edible flowers from Soil & Seed Garden at The Farm. Dine outside on the beautiful garden terrace or inside the farmhouse; reservations available from 5 to 6 p.m. and 7 to 8:30 p.m.
Maple & Ash is offering three seatings beginning at 4:30 p.m. for NYE, with a Champagne toast at midnight for the third seating. There is even a party in the lounge with a cash bar. 
12 West Brewing Mesa is set to open on New Year's Eve in Downtown Mesa, giving guests a new reason to head to Main Street for craft beers, classic cocktails, food and an extensive list of to-go items. It is a relaxing space for a family dinner, or a spot at the bar to enjoy a cocktail or craft beer, or making a stop on the way home to get some 12 West beers to go.
The Lola will be participating in Westgate's Party in the Plaza featuring DJ Pauly D. The restaurant will be offering a plated NYE dinner from 8 to 10 p.m., as well as live music and a NYE countdown with a complimentary Champagne toast at midnight.
Sushi Roku at W Scottsdale will be serving up a signature Omakase (or chef's choice) sushi menu on New Year's Eve. Even tastier, Sushi Roku will also be offering its entire regular dinner menu and its new mocktails menu. Plus, enjoy party favors and a complimentary bubbly toast at midnight.
Kick off 2020 in style with newly opened FLINT by Baltaire's New Year's Eve dinner featuring a full dinner menu, plus one-night-only specials and signature tableside carts serving up caviar, Champagne and more. 
Marcellino Ristorante will welcome 2020 with a New Year's Eve Party starting at 6 p.m. with authentic Italian cuisine, live music, dancing, party favors and plenty of bubbly for all. After 11 p.m., the floor is cleared to make room for dancing. Festive dishes will include Pasta di Fagioli, Chef's Cacio e Pepe and Chef's Straccetti con Tartufo.
St. Amand Kitchen & Cocktails is serving up five courses from a specialized NYE menu. Guests can come dressed in their holiday to best sip and bite some of St. Amand's show-stopping options then ring in the New Year with a complimentary Champagne toast at midnight.
The Gladly offers a three-course Chef's Tasting Menu with the likes of pan-seared scallops and duck meatloaf for NYE while Citizen Public House dishes up a three-course Chef's Tasting Menu with options like filet mignon and Chula red snapper in honor of the holiday.
Fat Ox offers three festive courses for NYE with dishes like veal meatballs, red snapper, short ribs and, of course, fresh pasta. 
Who needs bubbles when The Mission in Old Town and Kierland Commons are open for New Year's Eve/New Year's Day and offering guests a complimentary tequila toast?
Cambria Hotel Downtown Phoenix celebrates with a special three-course menu from Poppy, which comes with a ticket to From the Rooftop's modern 1920's-themed party. At the party, guests will enjoy DJ's, live jazz music, complimentary passed apps and pop-up bars with drinks for purchase. 
Medieval Times will be decorated for the holiday, and there will be a live DJ, dancing and a balloon drop at midnight in the Grand Hall at the family-friendly venue. In addition, a ticket for the 9:45 p.m. show includes live tournament, a four-course feast, party favors, a Champagne toast at midnight and more. 
Lyft, the Maricopa County Attorney's Office, Desert Financial Credit Union and Hubbard Radio have partnered on the "Save Lives, Don't DUI" campaign. Between now and New Year's Day, new Lyft riders can use the code JOY for up to $5 off four rides and existing riders can use the code JOY19 to receive 20 percent off two rides. To download the Lyft app, visit here.