---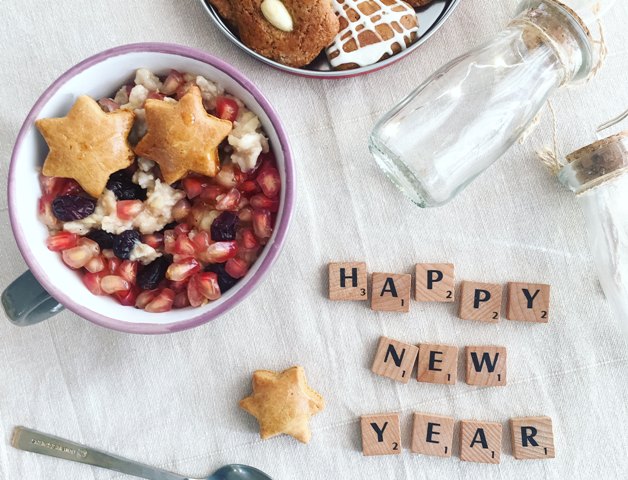 Whether you're craving total decadence or a more casual repast to bid 2018 adieu, make a reservation at these Valley restaurants offering special New Year's Eve and Day menus.
Guests can toast 2018 one last time at elements or celebrate with music and dancing at jade bar, both at Sanctuary on Camelback. Presenting a delicious four-course, prix fix menu by Chef MacMillan, elements will offer two seating times. The first seating will take place from 5:30 to 7 p.m.; the second seating takes place from 8 to 10:30 p.m. At jade bar, the NYE dance party begins at 9:30 p.m. and goes on until 1:30 a.m., complete with a dance floor and live music by DJ Hybrid. A dinner package for four or six is available featuring a four-course prix fixe holiday menu, bottle of Dom Perignon Champagne and party favors.
Ring in 2019 at Different Pointe of View, the AAA Four Diamond restaurant at Pointe Hilton Tapatio Cliffs Resort. The restaurant's New Year's Eve celebration begins with a four-course gourmet dinner, and the evening continues with live music in the adjacent Terrace Room featuring The Hamptons. Dinner seatings are at 6 to 7:45 p.m. and 8:30 to 10 p.m. Entertainment begins at 8:30 p.m. and is complimentary for dinner guests (there is a cover charge for non-dinner guests) and includes party favors, light fare and Champagne toast at midnight.
Families are invited to ring in 2019 at Yote's Family New Year's Eve Party at Pointe Hilton Squaw Peak Resort. The family-friendly celebration from 6 to 10 p.m. will feature a hearty buffet dinner with open, community-style seating and an evening full of entertainment including a DJ, dancing, games and crafts, a magician, face painting and much more. Families can capture memories throughout the evening in the family photo booth and will celebrate the New Year early with a 10 p.m. ball drop and sparkling cider toast.
At Prado's Tapas Bar at Omni Scottsdale Resort & Spa at Montelucia, NYE means a steady stream of delicious small plates. Holiday guests get to taste the entire tapas menu, including meats and cheeses while enjoying a complimentary glass of Dom Pérignon. Seatings available from 5 to 10 p.m. Or, kick off the new year at Prado with a four-course, prix-fixe menu, which includes short-rib, sea bass and house-made desserts. Champagne is included for a midnight toast and after dinner drinks are available at Mbar until 1 a.m.
On Jan. 1, True Food Kitchen will open its doors one hour early at 10 a.m., inviting guests to kick start their healthy resolutions with a special menu. Alongside regular brunch offerings, the New Year's brunch menu features a sneak peek of the Vegan Chorizo Bowl (which launches with the restaurant's winter menu on Jan. 9). In addition, guests can savor options like the Smashed Avocado Toast, an Egg & Chicken Sandwich and the Garden Scramble. Sips are a must, too; choose from the Pomegranate Lime Mimosa, Pineapple Orange Mimosa or a Prairie Mary.
Hearth '61 at Mountain Shadows is serving up a NYE dinner to remember. The special menu features lobster tortellini with ginger-coconut veloute. The first seating is at 6:30 p.m.; the second seating is at 9:30 p.m. The later seating also includes party favors and a Champagne toast at midnight.
Ring in the New Year in luxury at LON's at the Hermosa, as Executive Chef Jeremy Pacheco and his culinary team present a four-course exclusive a la carte celebration dinner from 5 to 10 p.m. Luxury dishes include venison tartar, crisp suckling pig and pan-roasted scallop.
Enjoy an á la carte dinner menu plus savory holiday features at Westin Kierland's Nellie Cashman's Monday Club Cafe while the resort's deseo will dish up a five-course dinner with two seatings available on NYE. deseo is open New Year's Eve from 5:30 to 9 p.m.
Ocean Prime celebrates with a special seafood feature. On NYE, Monday, diners can enjoy the broiled sea bass served over lobster risotto with roasted red pepper cream and fennel herb salad.
Sushi Roku at W Hotel Scottsdale will be offering its full menu on NYE, as well as three over-the-top special features just for the holiday, like lobster spring rolls and whole fried seabream.
Match Restaurant and Lounge invites guests to start the New Year off with the restaurant's Revitalize Event on Tuesday, Jan. 1. From 10:30 a.m. to 3 p.m., Match offers a brunch featuring an over-the top Bloody Mary bar for $12, including a plethora of add-ins and accouterments.
The Boulders Resort & Spa's signature Palo Verde Restaurant will be hosting a specialty NYE dinner with seating available from 5 to 10 p.m. featuring a Champagne toast, amuse bouche and a prix fixe, three-course menu.
On New Year's Eve, Mora Italian will be hosting a special prix fixe menu for from 4 to 11 p.m. The dinner will be four courses (dishes include foie gras gnudi, pasta pomodoro and much more), and wine pairings will be available. This will be the only option for NYE dining at Mora.
Hyatt Regency Scottsdale Resort & Spa at Gainey Ranch will offer a variety of NYE dining options, from a special holiday menu at SWB, a southwest bistro, to a four-course feast at Alto ristorante e bar, to sushi and sashimi at Noh.
Countdown the final hours of 2018 with a delicious four-course dinner at Blue Hound Kitchen & Cocktails, offering a four-course menu of fresh and seasonal cuisine from 5 to 10 p.m.
Starting at 5 p.m. on NYE, diners can enjoy a three-course menu (wine pairings available) at The MARKET Restaurant + Bar by Jennifer's. Revelers will also enjoy a complimentary glass of Champagne for a toast.
Salty Sow will be offering a specialty Surf & Turf meal on NYE, in addition to Dinner on Us (buy one entrée, get the second one free) on New Year's Day.
Roaring Fork will be offering a specialty Steak & Lobster combination on NYE, in addition to "Dinner On Us" (buy one entrée get the second one free) on New Year's Day.
The Gladly and Citizen Public House will each dish up a three-course NYE dinner menu. Both menus are finished with a seasonal Dessert Duet.
On Dec. 31, Tempo Urban Bistro invites guests to ring in 2019 with an exclusive NYE dinner menu served from 5 to 10 p.m., accompanied by live music from pianist Bobby Hamilton from 6 p.m. until 12:30 a.m.
For its grand opening week, Keeler's Steakhouse in Carefree hosts a New Year's Eve Gala Event. The celebration includes a buffet dinner, three drink tickets (cash bar thereafter), a Champagne toast and live band on the rooftop deck for dancing into 2019. Tickets can be purchased here.
On NYE, guests of Rusconi's American Kitchen can enjoy a decadent three-course feast. Created by chef and owner Michael Rusconi, the celebratory New Year's Eve menu features multiple options for a starter, main entrée and dessert.
Royal Palms' T. Cook's NYE dinner features two distinct multi-course menus: the 5 to 6:30 p.m. seating features three courses while the 7 to 10 p.m. seating features five courses and a Moet toast.
Roka Akor will be celebrating in style from 4:30 p.m. to 12 a.m. on NYE with a five-course tasting menu with Kushii oyster, pork belly, a bluefin tuna flight and more innovative eats.
Countdown to 2019 with a special Studio 54 event at the Vig McDowell Mountain through 1 a.m. Guests will enjoy a DJ, themed decorations, a specialty menu and a complimentary Champagne toast at midnight.
Join Quiessence at The Farm for a four-course  tasting menu featuring freshly harvested vegetables, herbs, eggs and edible flowers from Soil & Seed Garden at The Farm. (Dine outside on the  terrace or inside the original farmhouse.) For a truly romantic evening, reserve the Private Brick Oven Table; only two reservations are available for NYE.
At 6 p.m., Padre Murphy's will ring in 2019 with a New Year's Eve Celebration complete with a surf & turf dinner (served 11 a.m. to 10 p.m.), live music by  Cannonball who take the stage at 8:30 p.m., party favors, NYE hats and a Champagne toast at midnight.
Rott n' Grapes is offering a special dinner and party celebration, featuring a DJ, dancing and unlimited bubbles, beer and wine. Diners can purchase dinner and NYE party tickets; diners may also purchase just the NYE prix fixe menu, which includes a complimentary glass of bubbly.
Pomelo at the Orchard will features some of its famous specialty entrees, starters and salads, along with a prix fixe menu, which includes a welcome glass of Champagne, a starter harvest salad, a choice of a lobster tail or pan-seared filet mignon and one dessert.
Join TEXAZ Grill as it celebrates a classic tradition of the south of eating black-eyed peas on New Year's Day. Ring in the year with a complimentary bite of Texas Caviar (marinated black-eyed pea salad) on New Year's Day from 11 a.m. to 9 p.m.
Marcellino Ristorante dishes up a special NYE menu starting at 4 p.m, with a lineup of everyone's favorite dishes to choose from. Singer Monte Procopio will begin performing at 7:30 p.m.; after 11 p.m., the evening will also feature dancing, party favors and bubbly.
Bar Pesce in Phoenix will offer a variety of special entrees and drinks on NYE, including escargot with farm butter and Noble Bread, Two Wash deviled eggs with caviar, a Pomerey Champagne margarita for two and much more.
Beckett's Table and Southern Rail have offerings to keep you going until midnight this NYE. Beckett's Table will offer Maine lobster bisque and shrimp, smoked corn and bacon braised potatoes from 5 to 10 p.m. Southern Rail will offer the "Holy Trinity" of meals–eyed peas (coins), collard greens (cash), and cornbread (gold)–from 11 a.m. to 10 p.m.
From 4 to 11 p.m. on NYE, Two Brothers Tap House & Brewery will offer a prix fixe menu that includes your choice of beer, a choice of appetizer, a choice of entree and choice of dessert. There will also be $.99 growler refills for the evening.
At 9:30 p.m., Buck &Rider in Arcadia will offer exclusive NYE dishes and drinks, as well as party favors, a photo booth, music and more.
Whether an elegant prix fixe menu is your desire or a charcuterie and cheese board with bubbly sounds like the perfect NYE, Fairmont Scottsdale Princess has a variety of holiday dining options at its five restaurants and bars.