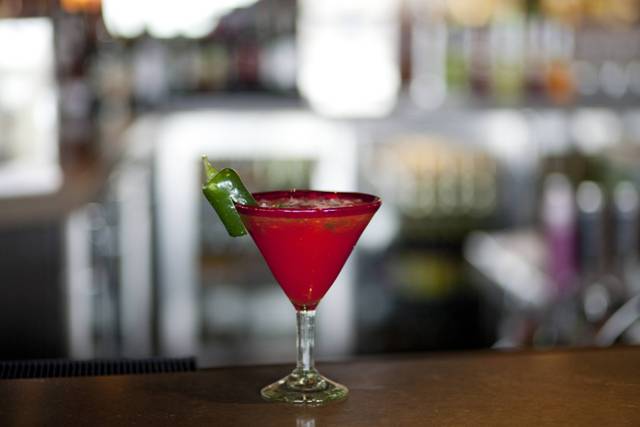 In the past few years, Phoenix's Biltmore Fashion Park has become a magnet for tasty dining desintations, including Zinburger and True Food Kitchen. Now, the fashion park has yet another delectable restaurant among its lineup: Black Chile Mexican Grille. Black Chile, the Biltmore's first Mexican restaurant, offers Mexican cuisine with a modern twist, quite the tequila menu and a great patio. (Black Chile is founded by the duo that conceptualized Kona Grill, by the way.)
For starters, the cojita grilled corn is a must-order. The sweet street-style corn is delectable, smothered in cojita cheese and finished with cayanne pepper and lime. Once you've picked the corn out of your teeth (it's worth the effort to enjoy the corn), order the fish tacos or namesake Black Chile entree as your main dish. The fish tacos feature a slightly spicy chipotle mayo and are topped with sweet cole slaw–resulting a knock-out sweet and spicy flavor. For something a bit more hearty, the Black Chile entree has lip-smacking seasoned cubed pork, onions and serrano peppers in a pasilla chile sauce. While the entrees are tasty, it was the sticky corn on the side that really got the most attention. The corn is sweet and–as the name suggests–sticky, unlike the corn sides at most Mexican restaurants.
For dessert, a heaping plate of churros, sided with chocolate sauce, is in order. And we mean heap–between two diners, we hardly made a dent in the dessert dish. However, the Black Chile dessert offered quality and quantity. For a real kick to your taste buds, don't miss the strawberry-jalapeno margarita. Sweet, spicy and utterly lip-smacking. http://www.blackchile.com/.