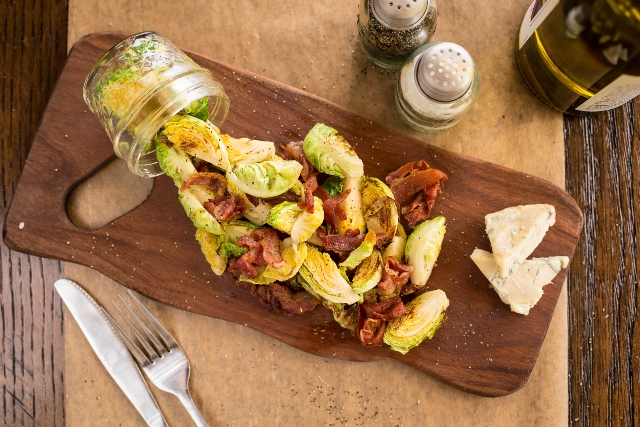 Looking for the best way to make your way through the dog days of summer? With a mid-week helping of flatbread and wine, we think. Luckily, Scottsdale Quarter's Sorso Wine Room recently welcomed all-day happy hour on Wednesdays (usually taking place every day from 3 to 6 p.m.) so there's no need to wait until the evening to dig in. Plus, Sorso's laidback, industrial-influenced atmosphere makes it a cool place to kickback away from the heat–with a cold drink in hand, of course.
During Sorso's must-try happy hour, diners can dig into a selection of food and drink specials for the wallet-friendly prices of $6 and $4 or for $3 off. The ever-popular roasted Brussels sprouts board is not only picture-perfect–we're sure you've spied it on your social feeds–but it features hearty chunks of salty pancetta, sweet dates and punchy gorgonzola for a crowd-pleasing, satisfying dish (only $8 during happy hour).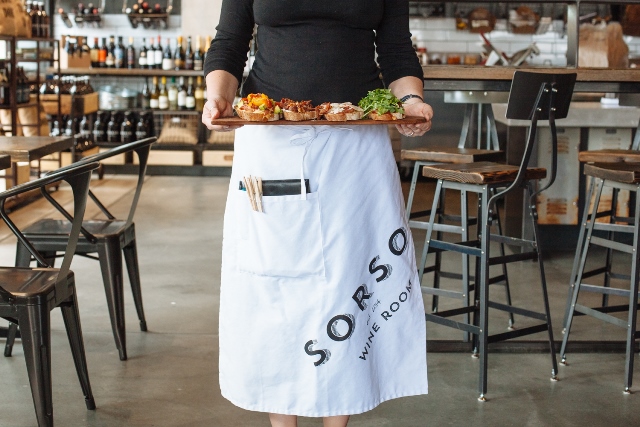 For $6, diners can choose any two bruschetta on the Sorso menu, with favorites being the pancetta with dates and creamy goat cheese and the soppressata with burrata and tangy sun-dried tomato pesto. It's a fabulous shareable plate to linger over with wine. Other tempting selections include green apple with brie and a caramel drizzle as well as roasted tomatoes with avocado.
If you're seeking a hearty eat with which to make a full-out lunch or dinner, the Raised Royal flatbread features barbecue sauce, chicken, red onions, mozzarella and cheddar for a sweet-meets-savory dish or The Boss, which comprises basil pesto, turkey, pancetta, mozzarella and feta (flatbreads are $3 off during happy hour).
And if you're in the position to have a drink or two during your Wednesday visit (or any weekday), we love the refreshing Middle Child cocktail. It features Hendrick's Gin, cucumber, lime, juniper berries and Fever Tree Tonic Water for a clean, light, crisp and perfect-for-summer sip. And, of course, there are plenty of beer and wine specials to savor during happy hour as well.