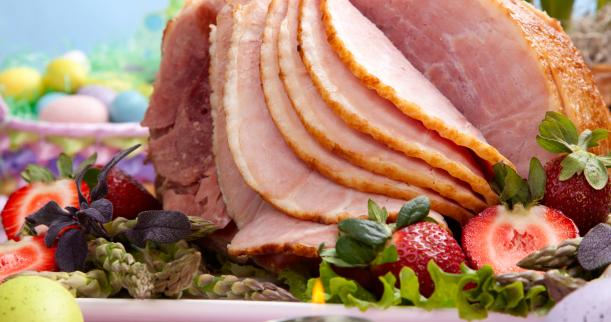 While it might be tempting to nibble on Cadbury Eggs and Peeps all Easter weekend, try out one of these Valley restaurants for its special holiday brunches, dinners, kid-friendly events and more.
The 2013 Easter Champagne Brunch menu at Westin Kierland will offer delectable holiday treats like breakfast stations with fresh pastries and omelets, carving stations with lamb and prime rib, seafood and sushi stations and much more. Kids will enjoy the Scottsdale resort's egg hunt, petting zoo, bounce house, meeting with the Easter Bunny and more. www.westinkierland.com.
Scottsdale's Roaring Fork will be featuring a Southwestern-style brunch with breakfast items and signature dishes. www.roaringfork.com.
Sassi in North Scottsdale will be featuring a holiday brunch with a variety of salads, meats, seafood, breakfast and egg dishes, pastas, cheeses and desserts. www.sassi.biz.
The signature Latilla restaurant at the Boulders Resort in Carefree will be featuring a brunch made up of specialty and traditional breakfast items, seafood, gourmet carved meats and desserts. www.theboulders.com.
Taggia at Scottsdale's FireSky Resort will host Easter specials (either prix fixe or a la carte) on Saturday and Sunday of Easter weekend. Specials include braised lamb shank and split pea risotto. www.taggiascottsdale.com.
A Champagne brunch will be held at Scottsdale Resort & Conference Center as well as photos with the Easter Bunny, an ongoing Easter egg hunt and much more. www.thescottsdaleresort.com.
Beckett's Table will open on Easter Sunday for its very first brunch service featuring a special menu of seasonal dishes and cocktail creations. Brunch will be served from 10 a.m. to 3 p.m. www.beckettstable.com.
Different Pointe of View restaurant at Pointe Hilton Tapatio Cliffs resort in Phoenix will host an Easter brunch with a view from 10 a.m. to 5 p.m. Highlights include a carving and grill stations as well as a waffle station. www.tapatiocliffshilton.com.
Phoenix's Rico's American Grill will feature a range of dining options including a made-to-order omelet station, French toast and waffles, a Little Italy pasta station and much more. www.squawpeakhilton.com.
Along with its regular brunch offerings, St. Francis in Phoenix will offer a few specials for Easter Sunday, including wood-roasted leg of spring lamb. www.stfrancisaz.com.
Phoenix's TEXAZ Grill will dish out $3 kid's menu, ham benedict and more in celebration of the Easter holiday. www.texazgrill.com.
Turf Paradise will be celebrating the holiday a day early with two great events March 30, including a Champagne Easter brunch from 11 a.m. to 4 p.m. There will be an egg hunt, face-painting and much more. www.turfparadise.net.
Four Seasons Resort Scottsdale at Troon North captures the excitement of the holiday  with an elaborate buffet in its on-site Talavera restaurant and special children's activities (including an egg hunt and visit from the Bunny himself) on Sunday, March 31. www.fourseasons.com/scottsdale.com.
Province at The Westin Phoenix Downtown hosts an Easter brunch menu featuring American favorites with Latin America incluences. Easter brunch will be available from 9 a.m. to 3:30 p.m. on Sunday, March 31. www.phoenix.provincerestaurant.com.
District American Kitchen and Wine Bar at Sheraton Phoenix Downtown Hotel will serve Easter brunch from 10 a.m. to 3 p.m. on Sunday, March 31. Notables include creative crafts for the kids and a build-your-own bloody Mary. www.districtrestaurant.com.
Montelucia Resort & Spa's Prado offers a deliciously festive menu for Easter brunch, capped off with bottomless Champagne and mimosas. www.montelucia.com.
An Easter brunch will be hosted from 10 a.m. to 3 p.m. at Fairmont Scottsdale Princess' La Hacienda Plaza and Trellis. Eats include a Southwestern omelet station, Kobe sliders, Easter candies and much more. The resort will also host a bounce host, photos with the Easter Bunny, a special Bunnyland playground and more. www.scottsdaleprincess.com.
Fleming's opens early on Easter Sunday and will feature a special three-course menu for families to celebrate the holiday. (The usual menu will be available, too.) www.flemingssteakhouse.com.
On Sunday, March 31, LON's at the Hermosa in Paradise Valley will be hosting a special four-course Easter brunch, served from 10 a.m. to 3 p.m. For dessert, carrot cake. www.lons.com.
Phoenix's JW Marriott Desert Ridge Resort & Spa dishes up delicious Easter brunch and dinner menus at its on-site Tuscany, Meritage Steakhouse and Blue Sage restaurants. www.jwdesertridgeresort.com.
Roka Akor in Scottsdale will serve a five-course menu for Easter Sunday dinner highlighting innovative choices including rabbit loin, sashimi and short ribs. www.rokaakor.com.
J&G Steakhouse and Molina Fine Jewelers have teamed up for a one-of-a-kind Easter experience: March 31, from 5 to 9 p.m., Molina will present the "Museum Collection" limited edition Fabergé Eggs alongside J&G's three-course Easter feast. www.jgsteakhousescottsdale.com.