When it comes to a sophisticated fine dining experience, Different Pointe of View at Pointe Hilton Tapatio Cliffs in Phoenix is one of my favorites. This long, longtime Valley staple has always been a special occasion dining destination. And, now Different Pointe of View is offering a new Four Diamond Under $40 program which ensures that no entree is more than $40. Therefore, diners get the same top-caliber menu items and atmosphere at a price that is a bit more manageable for the masses.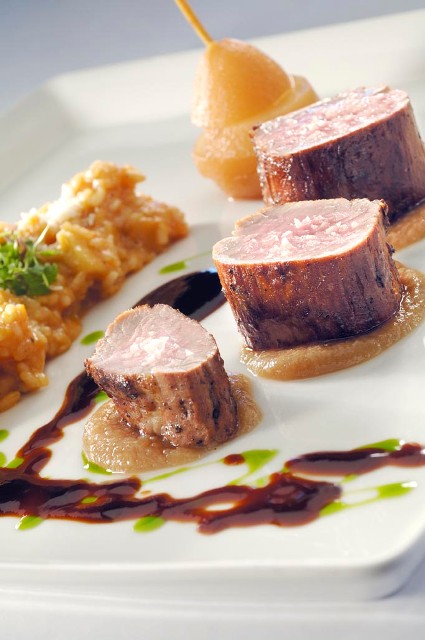 If Four Diamond Under $40 doesn't convince you to make the trek up the hill (and, yes, do expect to drive up a rather steep hill), then perhaps Different Pointe of View's memorable views and incredible eats will do the trick. The Phoenix dining room has floor-to-ceiling windows that allow for incredible city-light views. Don't bother trying to have a conversation before the meal arrives–diners are usually too busy gazing into the gorgeous distance. There's even an alfresco dining area that allows the same spectacular panoramas, if weather permits. (Have I mentioned how utterly romantic Different Pointe of View is?)
But once the food arrives, the view takes a back seat. Start with lobster bisque as it was the most delicious that we've ever tasted. It was possibly the most pretty too, as the bowl is centered with small and colorful heirloom cauliflowers. The cauliflowers add crunch to the creamy dish, too. The butternut squash and sweet potato ravioli and the braised Kobe beef short ribs are also fab appetizers. The appetizer portions are a bit small, though, so if you have more than two in your party, you might want to consider ordering more than one app.


We found the entrees, though, to be quite sizable. The pumpkin maple-smoked Palo Verde pork tenderloin with marsala coulis was yummy but the root vegetable parmesan risotto and baby forelle pear are the real stars of the dish. The cold-water diver scallops paired with golden raisin olive oil emulsion are terrific–the taste of the slightly sweet olive oil truly comes through and pairs so nicely with the scallops. The dish is rounded out with charred rainbow cauliflower, roasted sun chokes and fermented black garlic.
The Different Pointe of View isn't complete until dessert has been ordered. Gazing out onto the twinkling Phoenix lights over one of the restaurant's tasty chocolaty desserts is a total treat to the senses. 11111 N. 7th St., Phoenix, 602.866.6350, www.tapatiocliffshilton.com.