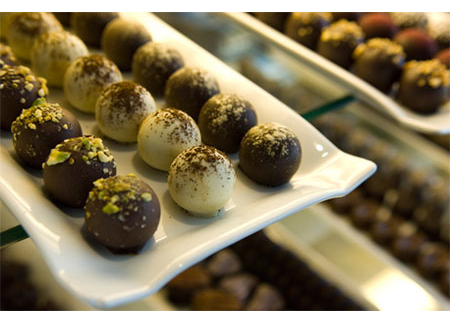 Sweet O Chocolate & Wine Lounge
I have a confession to make: I often look at the dessert listings before the appetizers upon sitting down at a restaurant. And I don't like when you have to wait until the end of the meal to see the dessert menu (why not just include this on the main menu, people? I need to know how much room I need to save!) Oh, and I've been known for order more than one sweet treat at a time. Needless to say, I've got one heck of a sweet tooth and I thought I'd share a few of my favorite restaurant desserts around town.
Sweet O Wine and Chocolate Lounge It's entirely possible that, upon stepping into this Glendale lounge, that you feel like you might have died and gone to heaven. The mmm-inducing menu features chocolate fondue, cheesecake, brownies, individual chocolates and more. However, it's Sweet O's hot chocolate (topped with artisan marshmallows in various flavors) that truly sends me over the moon. 9380 W. Westgate Blvd., Suite D101, Glendale, 623.877.3898, www.sweetolounge.com.
Oregano's When I was in college, I ate more Oregano's pizza cookies than I care to admit. Here's why: The dessert consists of a half-pound of under-baked cookie dough topped with vanilla bean ice cream and chocolate chips. Yum. Years later, this heavenly dessert is still one of my favorite meal-enders. Various Valley locations. www.oreganos.com.
J&G Steakhouse I was born and raised in New York—thus, this girl knows a good cheesecake. J&G Steakhouse's version is one of my favorites in the Valley. The impossibly creamy concoction is paired with cherry compote and sour cherry sorbet. The Phoenician, 6000 E. Camelback Rd., Scottsdale, 480.214.8000, www.jgsteakhousescottsdale.com.
The Farm Kitchen The larger-than-life cupcakes and cookies are totally tempting at this adorable Farm at South Mountain spot. But it is the amazing butternut squash crème brûlée that truly deserves your attention. 6106 S. 32nd St., Phoenix, 602.276.7288, www.thefarmatsouthmountain.com.
The Mission This Old Town newbie offers truly unique and—and truly delicious—desserts. The pumpkin bread pudding, topped with pepitas and pomegranate seeds, makes me very, very happy. If that doesn't sound good enough for you, let me also add that scotch is involved. 3815 N. Brown Ave., Scottsdale, 480.636.5005, www.themissionaz.com.
Christopher's Restaurant and Crush Lounge Chef Christopher Gross has long been whipping up his delicious Chocolate Tower. This decadent dessert is a shell of white and dark chocolates, filled with chocolate mousse and berries. There's no way to fault a dessert entirely dedicated to chocolate, is there? Biltmore Fashion Park, 2502 E Camelback Rd., Phoenix, 602.522.2344, www.christophersaz.com.