Old Town Scottsdale has a brand new dining destination from four big names in Valley dining. Chef-owners Cullen Campbell (Fine's Cellar) and Brandon Crouser (Atlas Bistro) have teamed with Lisa Giungo, formerly of Lisa G's in Phoenix, and pastry chef extraordinaire Tracy Dempsey to create Crudo Café.
This tucked-away spot in housed inside Steven Paul Salon and, on the bill of fare, you will find mostly fresh and local ingredients, served small plate-style, with an Italian slant. Though the kitchen and a few tables are located in the salon, the chairing patio offers the best seating for people watching in Old Town. Plus, the twinkle lights and Rat Pack-style music makes it quite the romantic spot.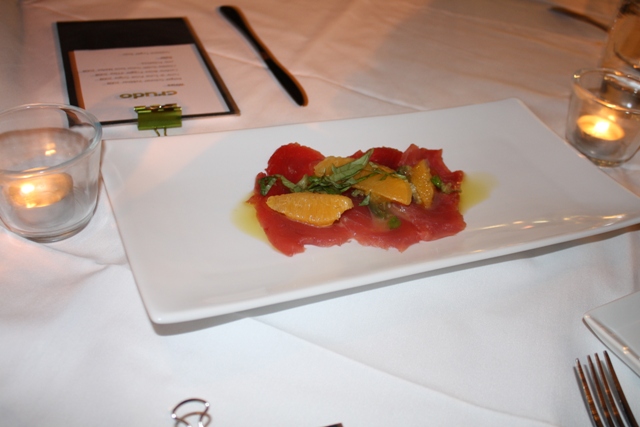 Crudo dishes up breakfast, lunch and, most recently, dinner. For the most important meal of the day, you'll find French toast bread pudding, breakfast burritos with green chilies and bacon, and crepes with ricotta and apple butter. If it's a mid-day meal you're seeking, panini sandwiches, salads, soups and flatbread pizzas are deck. Among the lunchtime offerings you'll find a beet soup with mozzarella and basil balsamic, a red pepper-pesto flatbread pizza and an Atomic Coffee milkshake.
Dinner selections are a bit more adventurous, especially for those who stick to a meat-and-potatoes diet. The small—and ever-changing—menu is divided into two sections (raw, seafood- and veggie-focused plates and Italian-inspired pasta and meat dishes). Since the servings are small, it's best to order three or so courses per person, starting with the cold dishes. For starters, we enjoyed the Maya's Farm table crudo, a colorful salad with beets, carrots, micro-arugula, black garlic and a white vinaigrette and the tuna dish with oranges, basil and olives. The latter combo was rather unexpected but so delicious.
As for Crudo's warm dishes, we very much enjoyed the soft polenta with fegato grasso and black sphinx dates. The dates provided a little bit of sweetness and a firmer texture to the polenta and creamy fetago grasso. The gnocchi was among the tastiest that we've tasted and was paired with prosciutto, broth and locally sourced herbs. And the daily special of melt-in-your-mouth pork belly served with tangy apple butter was tops. Not sure if we'll ever be able to eat boring old pork chops and apple sauce again.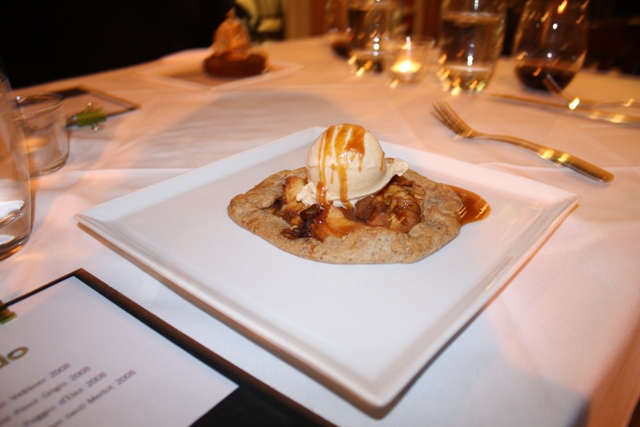 We made sure to save some room from Dempsey's desserts. Though the apple-bacon galette was good, we were head over heels for the brownie with espresso-orange ice cream and salted chocolate sauce. Heck, we would have been satisfied with Dempsey's amazing espresso-orange marshmallows (that accompanied the brownie). 7045 E. 3rd Ave., Scottsdale (inside Steven Paul Salon), 480.603.1011, www.crudocafe.com.