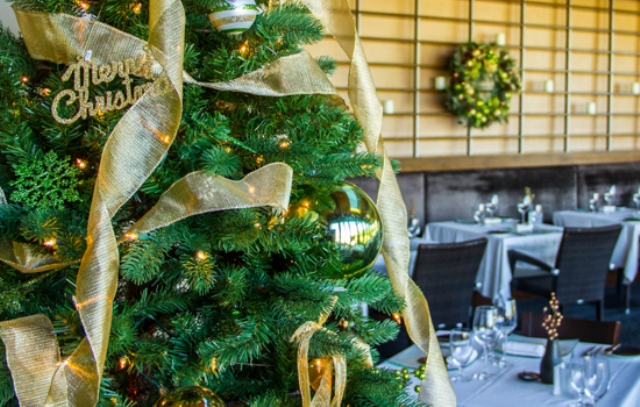 Ho-ho-hungry? If you're feeling a little Grinch-y about making Christmas dinner at home, consider taking the family to one of these Valley restaurants that are offering holiday menus–from casual to downright decadent. 
For Christmas Day dinner, Sanctuary's elements restaurant (pictured) will feature breathtaking views of Paradise Valley as well as an unforgettable four-course dinner by executive chef and Food Network Star Beau MacMillan. Served from 12 to 8 p.m., menu highlights will include escargot potpie with spinach, garlic confit, and cremini mushrooms; roasted California squab with foie gras risotto, caramelized Asian pear, pickled beech mushrooms and black pepper caramel sauce; crab stuffed petrale sole with haricot vert, pomme frittes and sauce meuniere; prime New York strip with salsify puree, king trumpet mushrooms, balsamic onions and bone marrow marmalade; and roasted vegetable wellington with gruyere cheese, asparagus, roasted mushrooms, spinach, squash and red pepper coulis. Dessert selections will include cranberry apple gallette with almond frangipane, cardamom crème anglaise and rosemary gelato; and jivara milk chocolate mousse with peppermint whipped ganache, shortbread crumble and crystallized mint.
Christmas Day brunch at Prado at Omni Scottsdale Resort & Spa at Montelucia is offered from 7 a.m. to 1 p.m. Savor a traditional brunch which includes an omelet station, waffles, fresh sliced fruit and smoked salmon, as well as a choice of small-plate options comprised of signature tapas, New York strip steak and eggs benedict. Live music and patio seating with stunning views of Camelback Mountain complete the experience. Or, for Christmas dinner, enjoy a four-course, prix-fixe menu featuring filet mignon, seafood paella and roasted sea bass, as well as festive music and tempting dessert. Dinner is served at Prado from 3 to 8:30 p.m.
Gather family and friends to celebrate in the Palomino Ballroom at the Fairmont Scottsdale Princess for Christmas brunch from 10 a.m. to 3 p.m. Four restaurants and five chefs come together for one spectacular holiday feast (Bourbon Steak, La Hacienda, Toro Latin Restaurant & Rum Bar and Ironwood American Kitchen). A few days prior, on Dec. 23, bring the kiddos to Breakfast with Santa & Friends Pajama Party in the Princess Ballroom, from 9 a.m. to noon. Enjoy visits by the holiday characters, DJ Jingle, reindeer games, a Legoland Discovery Center play area, photos with Santa in his Secret Headquarters, a special daytime skating session, access to S'mores Land and chances to win great prizes. Reservations to both dining events are required by calling 480.585.2694.
The Boulders' Palo Verde Restaurant celebrates the Christmas Day holiday with a delectable prix fixe, four-course menu from 4 to 10 p.m. Enjoy black garlic gnocchi, herb-crusted prime rib and other festive, delicious dishes.
Enjoy Christmas Eve weekend brunch at Gertrude's just inside the Desert Botanical Garden. The restaurant is featuring special menus on Dec. 23 and 24 from 8 a.m. to 3 p.m. (Regular service is also available. Gertrude's is closed on Christmas Day.) Dishes include eggnog semi-fredo and biscuits and gravy.
LON's at the Hermosa dishes up Christmas Eve and Christmas dinner: a three-course menu with a variety of options (like smoked prime rib and roasted sea bass). Christmas Eve dinner is offered from 4 to 8 p.m. LON's a la carte brunch menu will be offered from 10 a.m. to 2 p.m. Christmas Day dinner will be served from noon to 7 p.m. Reservations required: 602.955.7878.
Enjoy holiday  dining selections prepared by Executive Chef Dupere in a brunch-style buffet at The Scottsdale Resort at McCormick Ranch, A Destination Hotel. The buffet will include breakfast items, carving station entrees, a seafood bar,  sweet delights and much more. The Scottsdale's Christmas brunch is from 10 a.m. to 3 p.m. in the Vista Verde Dining Room.
Rita's Kitchen at JW Marriott Scottsdale Camelback Inn Resort & Spa hosts a special crunch from 10 a.m. to 2 p.m. on Christmas. The buffet includes a seafood bar, antipasto and salads, a carving station with roasted organic turkey, pepper-crusted prime rib of beef and orange0glazed Virginia ham, breakfast favorites, Mexican specialties and a delectable array of traditional Christmas desserts. Reservations required: 480.948.1700.
Enjoy a three-course Christmas Day menu at Dust Cutter at Renaissance Phoenix Downtown Hotel from 11 a.m. to 10 p.m. Dig into spiced duck breast, chocolate-mole bread pudding and more.
JW Marriott Desert Ridge Resort & Spa's MERITAGE, an urban tavern and stonegrill will each host Christmas dinner from 4 to 9 p.m. Dinner features and a la carte menu offered in addition to regular dinner menu.
T. Cook's at Royal Palms Resort and Spa offers a few ways to ring in the holiday. Christmas Eve brunch from 10 a.m. to 1 p.m. means a beautiful buffet of seafood, bakeshop goods and much more and dinner, served from 4:30 to 9 p.m., comprises three delicious courses. Christmas Day brings a three-course prix-fixe menu from 11 a.m. to 8 p.m. or the wonderful Royal Palms holiday buffet from 10 a.m. to 3 p.m. Reservations recommended: 602.808.0766.
Christmas Day dining at Pointe Hilton Tapatio Cliffs Resort means dinner at the fine-dining Different Pointe of View from noon to 7 p.m. with carving and grill stations will feature slow-roasted prime rib, roasted breast of young tom turkey, grilled pork loin and much more. or enjoy a comfortable and cozy holiday buffet dinner at Pointe In Thyme from noon to 6 p.m. For reservations, call 602.866.6348, ext. 7900.
The Camby's Christmas Brunch Buffet will be returning to Artizen with a menu is full of seasonal flavors including a sweet potato and roasted cauliflower salad with pomegranate seeds topped with a sherry vinaigrette and coffee agave roasted baby carrots to shine alongside delicious servings of the prime rib roast and fig and orange glazed ham from the carving station. The Christmas Day buffet menu will run from 11 a.m. to 3 p.m.
Savor the most wonderful time of the year surrounded by friends and family at Hearth '61, the signature restaurant at Mountain Shadows. Chef Charles Wiley will be serving a specialty four course Christmas Day menu spotlighting seasonal favorites including his much lauded butterkin squash soup with a decadent maple cream sauce and sage, punctuated by tart and sweet pomegranate seeds. The Christmas Day prix fixe dinner will be available between 12 p.m. and 9:30 p.m.
Hash Kitchen's two locations in Scottsdale will be open for brunch on Christmas Eve, from 7 a.m. to 3 p.m. and Christmas Day, from 7 a.m. to 2 p.m. The holiday menu includes a turkey and cornbread stuffing hash with sweet potatoes, hand-carved turkey, cornbread hash, two poached eggs and gravy drizzle served with a warm buttermilk biscuit and roasted turkey plate with garlic smashed potatoes, heirloom glazed carrots, turkey gravy and stuffing.
Tomaso's Italian Restaurant and Tomaso's When In Rome will be open from 12 to 9 p.m. on Christmas Eve and Christmas Day. Both restaurants by Chef Tomaso Maggiore will feature a traditional Italian Christmas Eve menu to celebrate "Feast of the Seven Fishes" Dec. 22 to 24. The menu includes baked clams with herbs and shallots and balsamic maple-glazed sea scallops paired with jalepeño for a sweet flavor with a touch of heat. Guest will have a choice of entrée and dessert.
This Christmas Eve, Market Street Kitchen is offering a special featured holiday dishes, in addition to its regular menu. Dig into pan-seared Alaskan halibut, pink peppercorn-crusted prime rib and much more.
Liberty Station is featuring special dishes this Christmas Eve, including pink pepper corn-crusted prime rib and 12-oz. New York strip, among other dishes.
Radisson Hotel Phoenix North's Brixton Pub & Restaurant will celebrate Christmas Eve and Christmas Day. The menu includes over-baked ham with cherry compote paired with sides such as garlic mashed potatoes and finished off with a dessert of chocolate flourless torte or a raspberry coulis. This holiday menu will be served from 5 p.m. to 10 p.m. on Christmas Eve and from 11 a.m. to 10 p.m. on Christmas Day.
Scramble – A Breakfast & Lunch Joint in Phoenix and Scottsdale will be open from 6 a.m. to 2 p.m. on Christmas Day. To celebrate the holidays on Christmas Day, guests can enjoy a peppermint mocha and cinnamon swirl pancakes with cream cheese frosting and a side of Schriner's sausage patties.
At Rusconi's American Kitchen, guests can enjoy the special Christmas Eve dinner menu (starting at 5 p.m.) or the bar menu (starting at 4 p.m.). (There is also a menu for children.) Dishes include roasted natural pork tenderloin, RAK caesar salad with corn relish and much more.
On Christmas Day, Padre Murphy's will be opening its doors at noon to host a traditional Christmas feast with a side of football. Sports fans can enjoy their holiday dinner (including prime rib, roasted turkey, wings and more), served from 2 to 9 p.m., all while watching the Pittsburgh Steelers vs. Houston Texans game at 2:30 p.m., followed by the Oakland Raiders vs. Philadelphia Eagles game at 6:30 p.m. on the pub's 90-plus TV's.
On Christmas Eve, Blue Hound Kitchen & Cocktails will be open from 5 to 10 p.m., serving its full dinner menu in addition to pork schnitzel as a special. On Christmas Day, the restaurant is open for lunch from 10 a.m. to 2 p.m. with its full lunch menu and several specials (like red velvet waffles) and then for dinner from 4 to 8 p.m., with festive dishes includes grilled swordfish and Christmas stew, in addition to its full dinner menu.
J&G Steakhouse will be serving up a three-course feast (options include butternut squash ravioli, crunchy halibut, warm chocolate cake and more) for both Christmas Eve and Christmas Day dinner.
Gather for a classic Christmas Eve brunch, lunch or dinner at the holiday-decked TEXAZ Grill. On Dec. 24, treat your family to a traditional Christmas Eve fish dinner with the Cod Victoria entrée special, available from 10 a.m. to 9 p.m. Diners can also enjoy TEXAZ Grill's signature Sunday brunch from 10 a.m. until 4 p.m.
Hotel Valley Ho in Scottsdale is spreading the holiday cheer with dining options throughout Christmas Day. Enjoy a special buffet in Sands from 10 a.m. to 2 p.m., including charcuterie, seafood, prime rib, ham with apple butter, local veggies and chocolate peppermint cheesecake. ZuZu is open all day, serving its seasonal menus for breakfast, lunch and dinner. Chef Russell LaCasce has also whipped up a four-course prix fixe dinner menu including lobster bisque, prime rib or branzino and gingerbread toffee pudding. Reservations are required for the buffet (480.421.7753) and recommended for ZuZu (480.376.2600).
Arizona Biltmore's Wright's at the Biltmore will offer delicious four-course Christmas Eve and Christmas Day dining experiences with a four-course menu (served on Christmas Eve from 11 a.m. to 8 p.m. and on Christmas Day from 1 to 9 p.m.) Frank & Albert's will offer a Christmas Eve buffet from 7 a.m. to noon, as well as a prix fixe dinner menu from 5 to 9:30 p.m. On Christmas Day at Frank & Albert's, the festive dining begins with a breakfast buffet from 7  to 11 a.m. For Christmas dinner, served from 1 to 9 p.m., guests will enjoy a three-course menu of holiday specialties.