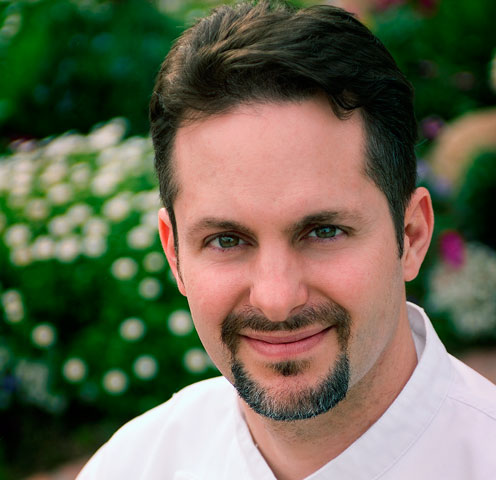 Locals who love food will be happy to see a certain award-winning chef back in the game: Michael Rusconi. Rusconi is revered for his work at Lon's at the Hermosa. Now, the chef is heading up his own restuarant: Rusconi's American Kitchen, set to open Sept. 6. Rusconi's American Kitchen can be found on the northeast corner of Tatum Road and Shea Boulevard, on the border of Phoenix and Paradise Valley.
"For three years, I've researched new ingredient sources, gathered ideas, recipes, and architectural designs for the restaurant. This fall, we'll deliver amazing regional American dishes infused with some very special aromatic wood elements," Rusconi says. "There's a reason why there's a flame in our logo."
The restaurant will be open every day for happy hour, dinner, wine flights and, come October, lunch and late night. "Rusconi's new venture offers a hearty menu of regional American cuisine featuring a wood-burning grill with an abundance of affordable items, bringing sophisticated and accessible fare to Valley restaurant goers," according to the press release. Appetizers include Blue Hill Bay Mussels immersed in smoked tomato broth, chardonnay, cilantro and lemon grass and the American Goat Cheese & Artichoke Fondue Pot with wood-grilled pita. Entrees like the pork osso bucco with prickly pear braised red cabbage, asparagus, and garlic mashed potatoes ($15), and boneless short ribs braised in ancho chile chocolate sauce accompanied with an ever-changing local vegetable ($17) are sure to impress. Rucsoni has even reserved a spot for adventurous diners at a cantilevered high-top butcher block counter where he delivers a tasting-style experience. The menu is rounded out by cocktails concocted from freshly squeezed fruit and locally-grown herbs and a wine list of more than 50 vintages.
Apart from cooking, Rusconi also helped design and engineer the restaurant. Some of the most special aspects include the  wood-wrapped entrance, a chalkboard inside the restaurant that delivers the handwritten daily specials and a stunning skylight/community art installation at the heart of the main dining room. http://www.facebook.com/RusconisAmericanKitchen.