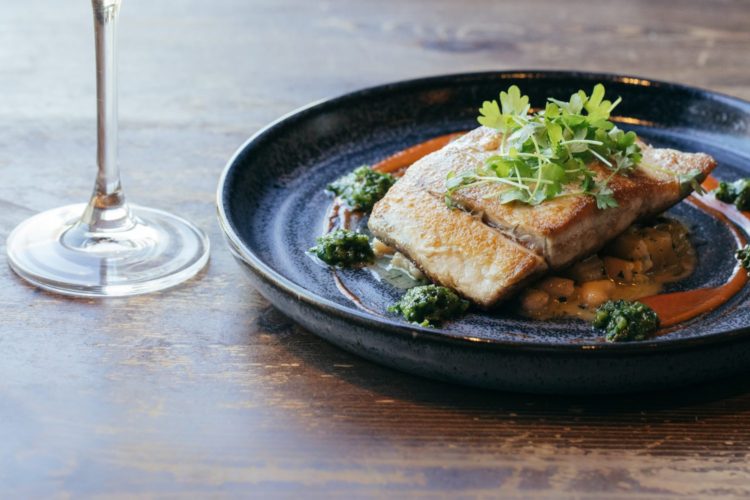 Home to floor-to-ceiling windows looking out onto surrounding Downtown Phoenix, Blue Hound Kitchen at Hotel Palomar is always pleasing to the senses. The three-meal restaurant is led by Executive Chef Dushyant Singh who certainly knows how to create seasonal menus that get better and better. We recently stopped into the social downtown restaurant to try out their new elevated fall fare.
We started things off with the staple BHKC Classic Chop, a beautifully presented salad with rainbow rows of pepita, dried sweet corn cojita, avocado and heirloom cherry tomatoes over fregola with a light yet flavorful buttermilk dressing. The tuna tartare joined the table which was served in a bowl-like sesame puff. Fresh yellowfin was mixed with yuzu and green apple, which was great on its own but even better when dipped into the accompanying avocado edamame puree.
Moving on to the entrees, the roasted Baja bass (pictured) was perfectly cooked to a flaky perfection and laid over a bed of savory heirloom cannellini bean ragout. As if that wasn't delicious enough, the dish was sauced up with a jalapeño tomato puree and chimichurri to give it a nice kick. An order of the 16-oz. New York Strip steak proved their certified Angus cuts were still as delicious as ever and always a winning pick for the hungry.
If there's one thing that Blue Hound has down, it's their side dishes, although let's be honest…they have everything down to a tasty science. The classic side options receive the royal treatment with the addition of irresistible ingredients like truffle butter and lemon aioli. We dug into the wild mushrooms (a fave at the table!) which were equal parts juicy and crispy with a perfect balance of sweet and savory. A five-minute egg oozed between the hefty portion of 'shrooms and braised cipollini while truffle butter took the dish a step further. As for the broccolini, a mix of lemon aioli, roasted garlic and a dusting of parmesan topped these delicious charred veggies. Other fall-forward sides for the choosing included roasted sunchokes, spinach brulee and a medley of autumnal veggies.
To top off the decadent meal, the cinnamon churro cake paired with horchata ice cream was the perfect fall ending. –Suzanne Koch