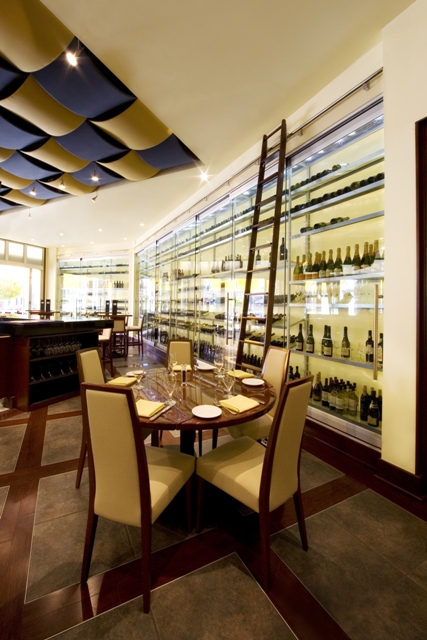 Westgate City Center's restaurants and shops are always bustling with concert-goers and Cardinals fans. And though the Glendale hot spot is full of happening bars and eateries, there is finally a dose of slightly more upscale fare for those wanting a lovely pre-game or pre-concert date. The newly opened Bice Bistro offers classic Italian eats at prices that won't make your wallet frown. In fact, there is a great express lunch menu from which you can get a sizable starter and entree for a mere $10.
We suggest having your Bice Bistro out on the lovely patio and take in the sights (pretty fountains! oodles of people watching!) and sounds (right now, you'll hear festive holiday tunes) of Westgate City Center. The interior is gorgeous as well, very sleek and neutral with colorful touches and am amazing glass-enclosed wine cellar. (You can even rent a private room for holiday parties.)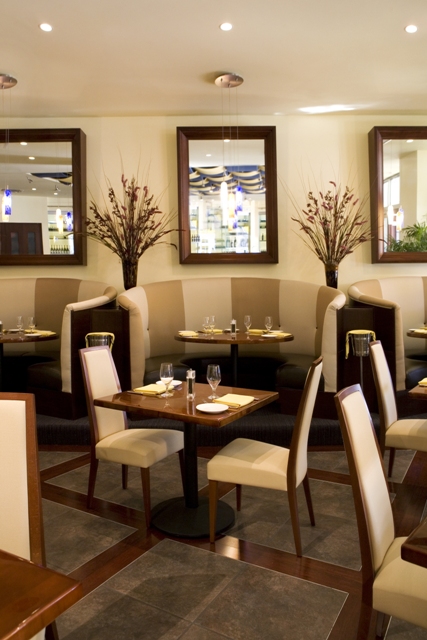 During our afternoon visit, we sampled eats from the express lunch menu, as well as a few items from the regular menu. Before our dishes were ordered, we munched on one of the top bread baskets that we've had in a long time, with the warm focaccia being our favorite. And forget butter, Bice Bistro pairs their bread with a concoction of cream cheese, olive oil, balsamic vinegar, black pepper and red pepper. The calamari starter (from the express menu) was wonderfully light and plentiful, and the potato gnocchi, slathered in tomato-and-pesto cream sauce, was dreamy–especially for a slight $10. We'd definitely order both delish dishes again. (The express lunch is available weekdays from 11:30 a.m. to 2:30 p.m.)
From the main menu, we sampled a panini that was filled with proscuitto, fresh mozzarella, arugula and tomatoes, all on crisped focaccia (oh that bread!) The dish also came with yummy fries. While there was nothing extra special about this plate–we were much more excited about  the gnocchi and calamari–the panini and fries sure did taste good and were plenty filling for our midday meal. The bill of fare also features salads, soups, fresh pastas, pizzas as well as more hearty fish and meat dishes. And what's Italian food without some wine to go with it? Luckily, Bice Bistro has plenty of bottles to close from, as showcased by the aforementioned cellar. To end our repast, we put a spoon into the tiramisu, which ensured that we left Bice Bistro with a smile. 6751 N. Sunset Blvd., Suite E110, Glendale, 623.877.4760, www.biceglendale.com.