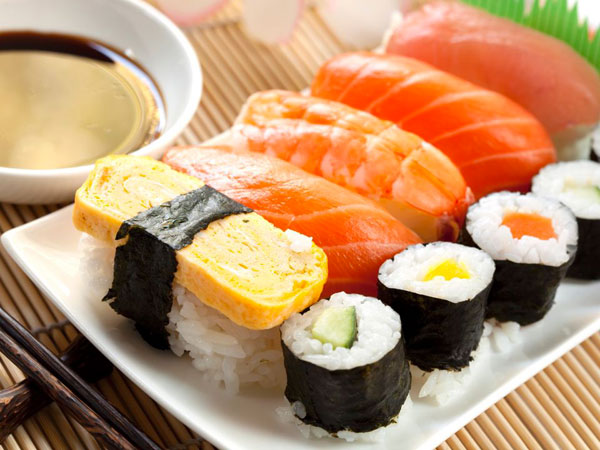 Sure, this weekend is all about munching chicken wings and sipping beer during the Super Bowl. Before the pigskin parade ensues, try out one of these amazing sushi spots in the Phoenix metro area.
Located at W Scottsdale, Sushi Roku not only dishes up a gorgeous spot to see and be seen (it was voted Best Restaurant Interior in this year's Best of Our Valley) but it has delicious, innovative sushi, too. The baked lobster and Katana rolls are among Sushi Roku's yummy signature selections while sushi purist will adore the Scottsdale restaurant's fresh sashimi. To get a sampling, order up the seven- or 12-piece assortment. Be sure to stop in for happy hour, Monday through Saturday, from 4 to 6:30 p.m., and all night long on Sundays for sweet deals. www.sushiroku.com.
Variety is the spice of life at Scottsdale's Pure Sushi Bar & Dining, located in the Grayhawk area. The hot spot dishes up great sushi and hot entrees; indoor, outdoor or bar seating; it's open for lunch and dinner; and Pure has dozens of amazing sushi offerings to choose from (including a few new rolls: Hokey Poke and Green Giant rolls). Order a sushi or sashimi platter to get a sampling of Pure's tastiest selections, and be sure to indulge in Pure's delectable lobster tempura as well. www.puresushibar.com.
Roka Akor in Scottsdale offers guests some of the Valley best seafood and sushi (the restaurant has plenty of divine meat dishes, too). Get the deluxe sashimi platter for a gorgeous presentation of the restaurant's tastiest sashimi. The crispy prawn roll and soft shell crab roll are crowd pleasers. Roka Akor pours a great selection of sake and shochu, to boot. www.rokaakor.com.
Sushi Brokers in Scottsdale knows how to think outside of the box with offerings like sushi pizza, soft shell crab BLT and more. The sushi lineup at this Scottsdale eatery also offers a unique selection of signature rolls alongside classics (like the tootsie, caterpillar and Philly rolls). Try Sushi Brokers' sweet pineapple roll for a tangy treat and dig into the Del Sol for a Southwest-inspired eat. www.sushibrokers.com.
At ShinBay, located at the Scottsdale Seville, diners should start with the amazing homemade tofu then sample some veggie tempura before moving to the sushi. Or put yourself in the chef's hands from the start with a tasting menu (be sure to reserve your spot at least 24 hours in advance). Sit at the chef's counter for a truly unique dining experience. www.shinbay.com.
Best of Our Valley winner: At Scottsdale- and Gilbert-based Blue Wasabi Sushi and Martini Bar, the rolls are as tasty as they are good-humored. (They sport names like Marilyn Monroll and Eating Nemo.) To wash these down, Blue Wasabi has an impressive lineup of martinis. Blue Wasabi outposts are sleek and chic–great spots for a girls' night out or a romantic date night. www.bluewasabisushi.com.