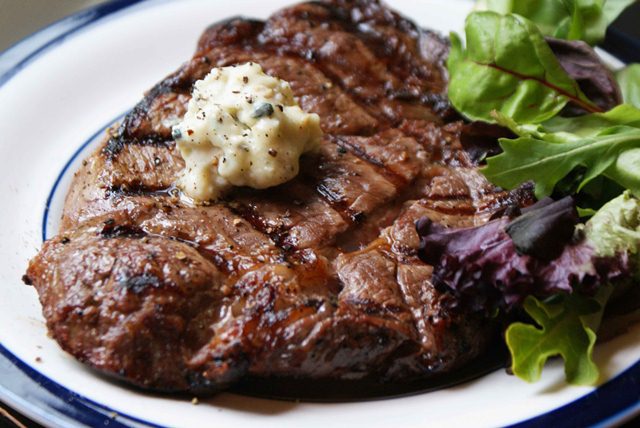 There are few things more hearty and satisfying than a mouthwatering steak. Here are a few of our favorites in the Valley.
2013 Best of Our Valley winner: Scottsdale Quarter's Michael Dominick's Steakhouse has a cut for just about every craving. (The ultra-luxurious dining spot also has stellar seafood for those wanting some under-the-sea eats. Try the colossal shrimp cocktail.) The Scottsdale steakhouse also just debuted a new early bar menu that allows diners to get Michael Dominick's amazing fare at great deals from 4:30 to 6 p.m. daily. Think $10 for fried meatballs, sliced filet mignon with scallops and more. http://dominickssteakhouse.com/.
Bourbon Steak at Fairmont Scottsdale Princess not only offers one of the Valley's most gorgeous spots to dine, but it dishes out an amazing selection of mesquite-grill steaks. The wagyu dry-aged New York strip is a favorite, and the 32-oz. porterhouse is great for sharing. On the side, be sure to order Mina's famed duck-fat fries and brussels sprouts, which have been sweetened with bacon marmalade. Also, Bourbon Steak just unveiled a brand-new patio featuring comfy booths and fire pits–the perfect spot to cozy up with your cutie and a cocktail. www.scottsdaleprincess.com.
BLT Steak at JW Marriott Scottsdale Camelback Inn Resort & Spa for stunning sunset views of Camelback, indulgent popovers and amazing rib eyes, New York strips and filets. Diners are able to customize their steak dishes by choosing one of BLT Steak's sauces, including peppercorn, three-mustard, BBQ and more. The Scottsdale restaurant's seafood plates are also crowd-pleasers. www.marriott.com.
Whether you are grabbing a seat at Mastro's Steakhouse, City Hall or Ocean Club, you can rest assured that a super steak is coming your way. Those with a small appetite can order the 8-oz. petite filet while super-hungry diners can dig into thr 48-oz. double-cut porterhouse. For dessert, the warm butter cake–with freshly whipped cream on the side–is an absolute must. www.mastrosrestaurants.com.
J&G Steakhouse at The Phoenician boasts jaw-dropping panoramas of the mountains and city lights and beyond-delicious meat dishes. The six-peppercorn prime New York strip is a favorite. On the side, try the black truffle cheese fritters and, for dessert, do the cheesecake. Or put yourself in the chef's hands and do a tasting menu–you won't be disappointed. www.jgsteakhousescottsdale.com.