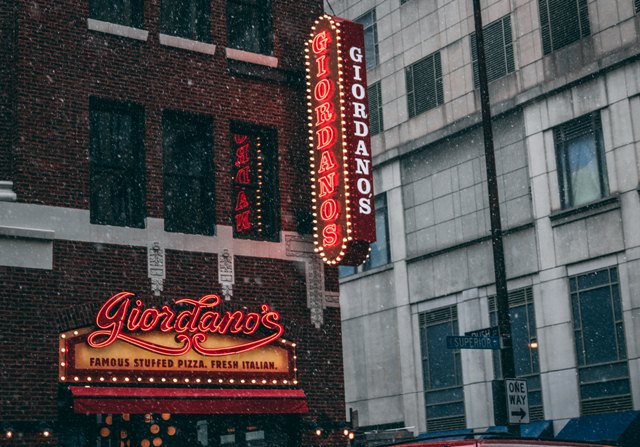 Photo by Matt Antonioli on Unsplash
The Valley has no shortage of Chicagoans, so where do these folks go when they're craving their hometown-style, deep-dish deliciousness? Here are some of our favorite Chicago-style pizzerias around the Valley.
Giordano's has been serving its world-famous stuffed deep-dish pizza since the 70's and is now internationally known as one of the top spots for Chicago-style 'za.  Giordano's currently operates a popular restaurant in Arrowhead and, in anticipation of its 68th restaurant opening this September, Giordano's will deliver  68 deep-dish pizzas to area businesses from August 9 to August 13. (The restaurant will open in northeast Phoenix.) Want to enter for you and up to 19 co-workers? To nominate your business, send an e-mail to Giordanos@dualitypr.com with your name, daytime phone number, office address, number of people on your work team, the best day of the week for your desired pizza delivery, and the reason why your office team deserves a catered lunch compliments of Giordano's. (Nominations are open to businesses within the restaurant's future delivery area, which extends from Cave Creek Road on the west to Loop 101 on the east, and from Loop 101 on the north to Indian Bend Road on the south.)
Lou Malnati got his start in the 1940's working in Chicago's first deep-dish pizzeria; now, his namesake pizzeria has locations all throughout Chicago, as well as two in the Phoenix area (a third is coming soon). Every from-scratch Lou Malnati's pizza is handmade using the finest and freshest ingredients. Wondering what makes Lou Malnati's crust so delish? Keep wondering. The family's top-secret recipe for flaky, buttery crust has been passed down from generation to generation.
Gino's East has locations throughout the nation, and, fortunately, one in Phoenix. For 50 years, Gino's East has been a favorite in Chicago for its signature golden crust. We recommend popping in for lunch on a weekday from 11 a.m. to 2 p.m. for Gino's smoking lunch deal. For $8, diners get their choice of an entree (naturally, choose the mini deep-dish pizza that isn't all that "mini"), a side and a drink.
Since the early 90's, Oregano's has served up some of the Valley's best Chicago-style pizza and has become one of the most beloved local family-friendly restaurants. For a real meal to remember, opt for Oregano's stuffed pizza. The dish starts with Oregano's deep-dish pizza, adds house-made crust and then fills it with cheese and fresh ingredients. The, the whole shebang is covered with a layer of thin crust and topped with sauce. Not for the faint of heart.
The Scarnato brothers foundered their first carry out/delivery restaurant in the northern suburbs of Chicago back in 1992, eventually opening Buddyz Chicago Pizza in Queen Creek and Gilbert in recent years. Buddyz naturally specializes in Chicago-style pizza and as its Web site states: "Every time a piece of deep-dish pizza is lifted from its dish, an angel is born in cheese heaven." That's enough reason to visit, we think.
At Rosati's Pizza, they "keep it real" when it comes to its Chicago-style 'za. With more than a dozen locations throughout the state, Rosati's deep-dish goodness is never too far away. The pizza features pan-cooked, buttery crust that is smothered with cheese and chunky tomato sauce, then baked to perfection for more than 40 minutes–but well worth the wait.