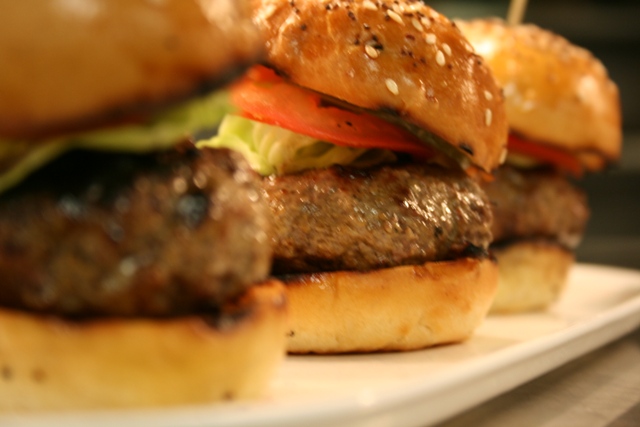 Whose mouth doesn't water at the thought of a big, juicy burger? Here are a few A-plus patties in the Valley.
Best of Our Valley winner: The award-winning Kelly's Original Four Cut Burger, served at Kelly's at Southbridge in Scottsdale, is one of the top burgers in the Valley. It features an enticing blend of sirloin, short ribs, chuck and brisket and is topped with a medley of sweet and savory ingredients: mushrooms, piquillo pepper relish, onion jam, comte cheese and pancetta. www.kellysatsouthbridge.com.
Scottsdalites flock to Houston's for great power lunches and the restaurant's amazing burgers. Houston's patties are house-ground each morning, and the burgers are crowned with homemade buns. The Hickory Burger is topped with Canadian bacon, chopped cheddar cheese, onions and zangy hickory sauce is a crowd favorite, and the veggie burger is a yummy, unique pick for vegetarians thanks to its sweet soy glaze. www.hillstone.com.
Roaring Fork's Big Ass Burger is one of the Valley's most well-known burgers; it has been a staple on the Scottsdale restaurant's menu for years. The larger-than-life burger features poblano peppers, cheddar and smoked pepper bacon and is sided with delectable fries. The 12-ounce burger is mighty flavorful and juicy. www.roaringfork.com.
Phoenix's Windsor doles up a lip-smackin' burger that has fans going back regularly: the Backyard Bacon Burger. It is topped with sharp cheddar, caramelized onion, Tender Belly bacon and Windsor steak sauce. The sweet sauce is simply addictive, especially alongside the sweet onions, and Tender Belly bacon melts in your mouth. www.windsoraz.com.
Regulars head to Beckett's Table in Phoenix for the super-juicy "b" burger, comprising buttered brioche, boursin, bibb lettuce, bacon and beefsteak tomato. (Pair it with Beckett's Table's amazing mashed potatoes.) The grilled-to-perfection burger personifies the restaurant's warm, comforting atmosphere. www.beckettstable.com.
The Fontina Burger at Joe's Farm Grill in Gilbert offers pops of freshness and flavor atop the melt-in-your-mouth beef. The six-ounce burger features roasted red peppers, divine homemade pecan pesto, field greens, grilled mushrooms and, of course, ooey gooey fontina cheese. Get Joe's sweet potato fries on the side for a real treat. www.joesfarmgrill.com.