You gotta love a handsome restaurant, especially when that restaurant serves up darn delicious Italian eats–such was my feeling about Market Street at DC Ranch's new casual, cool eatery, Autostrada Osteria & Enotecca. The restaurant, from Sol y Sombra and OverEasy's chef Aaron May, starts dishing out breakfast at 7 a.m. (the menu includes such tempting plates as glazed brioche with cinnamon mascarpone, parmesan scrambled eggs with artichokes and herbs and ricotta cake with honey-cream, strawberries and pine nuts), serves panini and appetizers come lunch time and finishes up with pasta, seafood and meat courses for dinner. Just reading the menu could elicit drool.
I started with a summer-friendly salad of baby arugula, gorgonzola, orange segments and hazelnuts. Though I think the salad was doused in a tad too much creamy dressing, I loved the opposing textures and flavors in the dish. Plus, it was mighty refreshing. Next, the New York steak, served on a potato puree, was juicy and tender while the butternut squash ravioli (with sage, brown butter sauce and amaretti cookie crumbles) had me hungry for more. (You see, the pasta dishes are on the small side and meant to be shared and paired with a more hearty meat or seafood plate.) My second choice was the fettuccine with sea scallops, wild mushrooms and mascarpone. Sounds great, doesn't it? The side of gold and red baby beets, paired with chunks of sheep's milk ricotta, was also very good. In fact, nearly all of Autostrada's side items sounded like winners: white asparagus with walnut sauce, currants and pecorino; salad of fingerline potatoes, pancetta, kale, shallots and olive oil–I think you get the picture. For dessert, a crepe filled with Nutella, strawberries and orange cream was in order. The crepe was a bit doughy in the center, it was impossible not to love this yummy combination.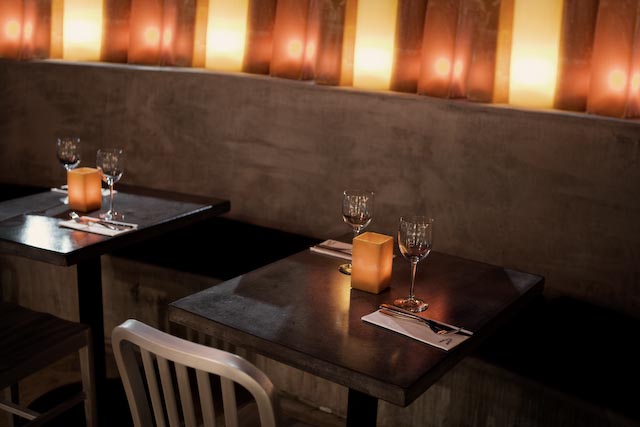 Apart from the great food, Autostrada has a unique, laid-back atmosphere going for it. Though the inside of the restaurant is rather small, Autostrada has plenty of heavily shaded patio space. It was nice to see both spaces starting to fill up on this Thursday evening visit. And I loved the mingling of whites, reds and woods in the design. Plus, the rear-view mirrors that cover the entry area's wall is too cool. Though they may seem a little out of place, I'm guessing the mirrors are a nod to the restaurant's name, which is an Italian word for motorway or freeway. 20825 N. Pima Rd., Scottsdale, 480.513.2886, http://www.eatatautostrada.com/.