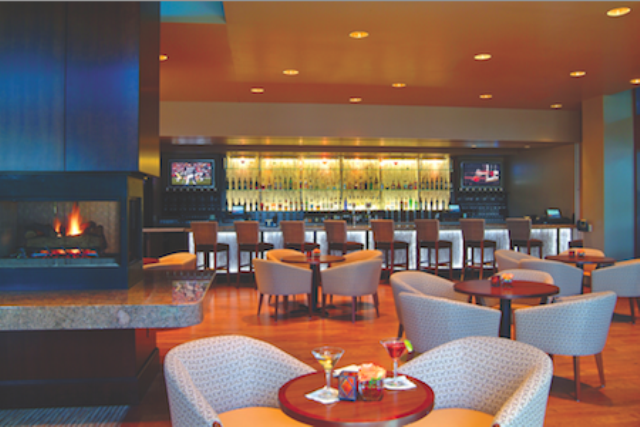 As my colleague and I made the half-hour drive from our office to the Radisson Fort McDowell Resort in Fountain Hills, we had our fingers crossed that the fare at the resort's Ahnala restaurant was well worth the trip. Luckily, it was. The AAA Four-Diamond resort has been a fixture in Fountain Hills for the past four years, and its Ahnala restaurant dishes up Southwestern cuisine in a casual, colorful atmosphere. (We think it'd be a great place for a business lunch.)
The comfortable dining room is accented by huge booths, lovely nature-inspired artwork and a warming two-way fireplace. A large bar for the after-work crowd is also found in the Ahnala dining room. We found the length of the lunch menu just right: not too long or too short. A handful of starters, salads and soups with about 15 entree and salad selections to choose from. We started with the Ahnala signature salad–a colorful concoction of baby greens, orange segments, hazelnuts, goat cheese and a sweet citrus vinaigrette. We loved the varied textures and tastes, from the crunchy hazelnuts to the sweet oranges to the creamy cheese. (The salad was nicely split as a starter, or can make a great meal with the addition of shrimp, perhaps, which you can do.)
I followed up the salad with the Southwestern salmon BLT served on sourdough bread with argula, bacon jelly and tomato. The sandwich was delicious, and I was surprised by how much salmon was included. The plate was rounded out with some tasty fruit–and I don't mean a handful of grapes either, like many fruit side dishes. I nibbled on all types of berries, melon and pineapple. My colleague opted for the grilled vegetable wrap. Unlike the standard veggie wrap (served cold and filled with the usual suspects of roasted red peppers, zucchini and portabello mushrooms) this wrap was dished up warm, and stuffed with freshly cooked veggies including tomatoes, yellow squash, onions, green peppers and, of course, those favorites mentioned earlier. Hummus is the magic ingredient that pulled it all together, resulting in a surprisingly flavorful and filling meal that boasts a day's serving of veggies. We countered all the vegetable goodness by ordering French fries on the side, which are served in an adorable little bowl with a little pot of ketchup for dipping.
As a close to our meal, we got a sneak peek–or taste, rather–of one of the soon-to-be-released dessert items. It was a plate of chocolate in six different ways: a fudgey chocolate bar with chocolate "soil", a minty chocolate ice cream cone, a tempura-battered bite of chocolate, and an amazing petite-sized hot chocolate topped with white chocolate. Not only was the contemporary presentation very memorable, but it was one of the tastiest chocolate desserts that I've had in a while. (My colleague and I agreed that the battered chocolate and the hot chocolate were our favorites of the bunch.) The only thing I would add to my dining excursion to Ahnala? A glass of milk to accompany the amazing chocolate spread. Radisson Fort McDowell Resort, 10438 N. Fort McDowell Rd., Scottsdale/Fountain Hills, 480.789.5300, http://www.radisson.com/hotels/azmcdowe/dinings.