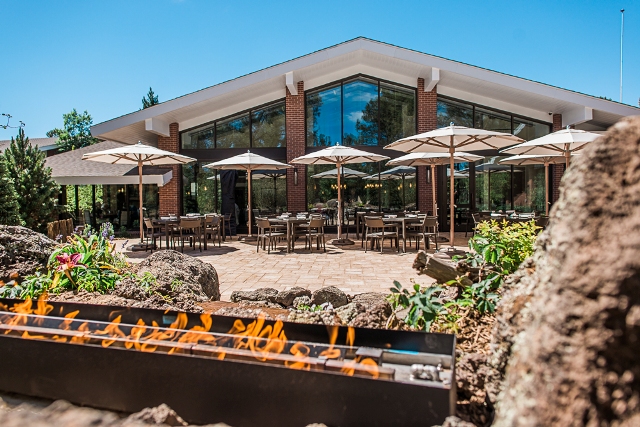 While we're still in the depths of summer weather in the Valley, Flagstaff is sitting at 75-degree highs. And with the debut of the newly upgraded Silver Pine Restaurant & Bar at Little America Hotel, we think now is the perfect time to head north.
Little America recently completed the final phase of its beautiful two-year renovation project, which touched the guest rooms, the lobby, the retail shop, a new outdoor patio (pictured) and more than 13,000 square feet of contemporary meeting space, solidifying its spot at the area's most elite staying destination. The most exciting update comes in the form of Silver Pine. The space is expansive and beautiful, decked in neutral tones, touches of blue, modern lighting fixtures, black-and-white historic photos and gorgeous wood beams that give an upscale wood-cabin vibe. Cozy, yet high-end. Diners can choose from a variety of seating areas, from traditional tables and comfy booths to the sleek bar area at the front of the restaurant. The new patio area is a must when the weather is just right, as it's surrounded by towering trees, a fire feature and a babbling waterfall to add a dose of serenity alongside supper.
On the restaurant's new menu, Executive Chef Eduardo Mata focuses on international dishes, blue-plate specials and quintessential Arizona flavors that diners will adore. On the dinner menu, the chimichurri wild shrimp is a unique wake-up call for the taste buds, featuring grilled wild-caught Mexican gulf shrimp, roasted garlic aioli, red chimichurri, charred lime and toasty ciabatta bread. For a light starter that is packed with texture and unique flavor, the Silver Pine romaine salad comprises creamy agave-lime dressing, spiced pepitas, dried apricot and aged sharp white cheddar. The star of the salad, though, is the house-made cornbread croutons that crown it. Each crouton in slightly sweet and deliciously crisp–the perfect complement to the creamy dressing and cheese. (We won't blame you if you hoard a few in your pocket for later.)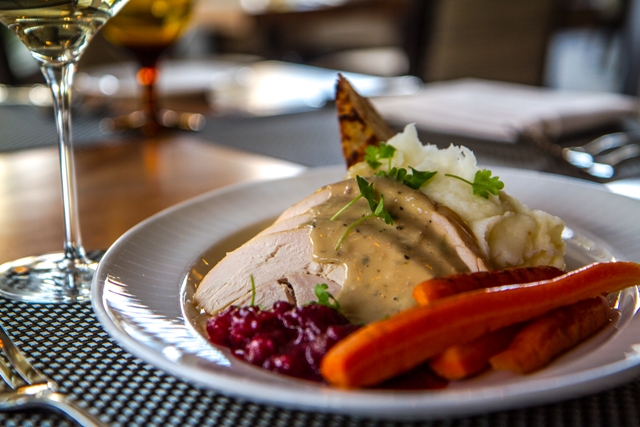 For a true nod to traditional, the Little America turkey plate is like a helping from Grandma's house: herb-brined and roasted breast of turkey, whipped potatoes, green beans, apple cider gravy and sage stuffing (pictured). This comfort-food feast will keep you full through the next day's lunchtime–and have you counting down the days until Thanksgiving. For another classic, the spaghetti bolognese is a hearty, delicious dish while we hear the house specialty, slow-roasted prime rib of beef isn't to be missed (available on Fridays and Saturdays).
Looking to wash it all down? The Shade Tree is a mighty tasty ode to summer with Four Roses bourbon, real peaches, lemon, cucumber and mint. Not overly sweet, The Shade Tree is super-refreshing and cooling–best enjoyed on the patio. If you're feeling adventurous, opt for the C.O.M "Cocktail of the Moment," which is Silver Pine's daily cocktail. It'll be a surprise, but a pleasant one.