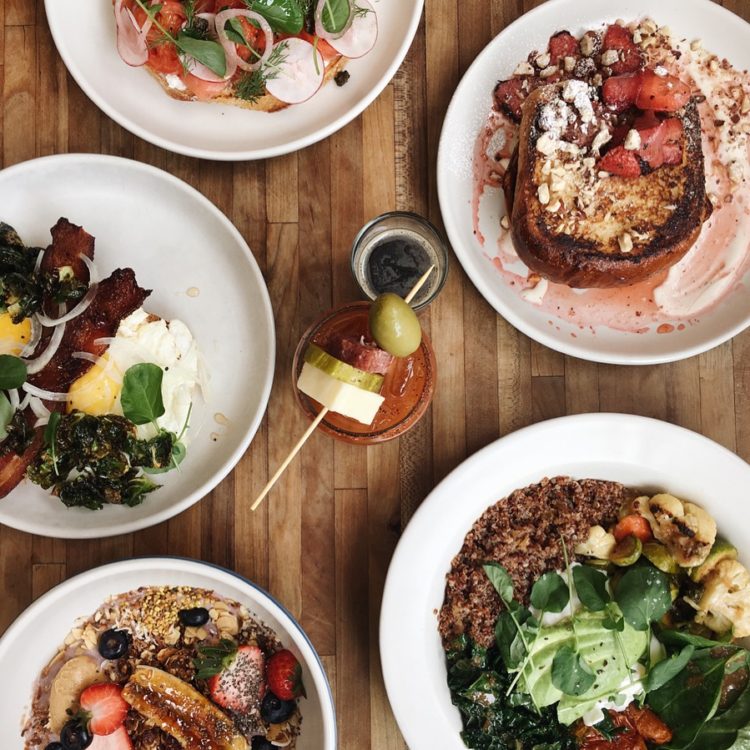 A longtime brunch favorite in Tucson, we couldn't contain our breakfast-loving excitement when Prep & Pastry opened its doors at the Scottsdale Waterfront in September. Before the first sip of coffee, the space will pep you right up with its airy appeal and beautiful design. The sky-high ceiling, lovely lighting, plantlife throughout, gorgeous tilework and must-see pastry case make up the combo needed to awake the senses and ignite a walking-on-air feeling needed to kick off the day–and brunchtime.
After a recent a.m. visit to the dining destination, here are three of our favorite dishes (some naughty, some nice, all so delish):
Savory Breakfast Bowl: If you're looking for a healthful a.m. eat (perhaps to power you up for a workout), this colorful breakfast bowl is full of good-for-you-ness. Plus, it would also hold up well if you ordered it to go. The delicious bowl comprises quinoa, spinach, wilted kale, avocado, tahini, a plethora of roasted veggies and poached eggs to fill you up and start the day on the right foot.
Milk & Honey: We dare you not to order this French toast offering once reading this description: brioche, vanilla pastry creme, orange liqueur nectar, bee pollen, baked meringue. Right?! The four super-thick slices of brioche are surrounded by the sweet vanilla cream and sprinkled with the meringue bits. The orange adds a refreshing bite. Is it breakfast? Or is it dessert? Whatever you decide, grab a friend with a sweet tooth and dig in.
Green Chile French Toast: Our favorite Prep & Pastry dish, this sweet-and-savory dish is completely unique and utterly delicious. The "French toast" is actually thick slices of green chile cornbread that are topped with jalepeno relish, refreshing lime crema and a sunny-side-up egg. We adored the sweetness of the cornbread against the slightly spicy relish, rounded out with the velvety texture of the egg and lime crema.