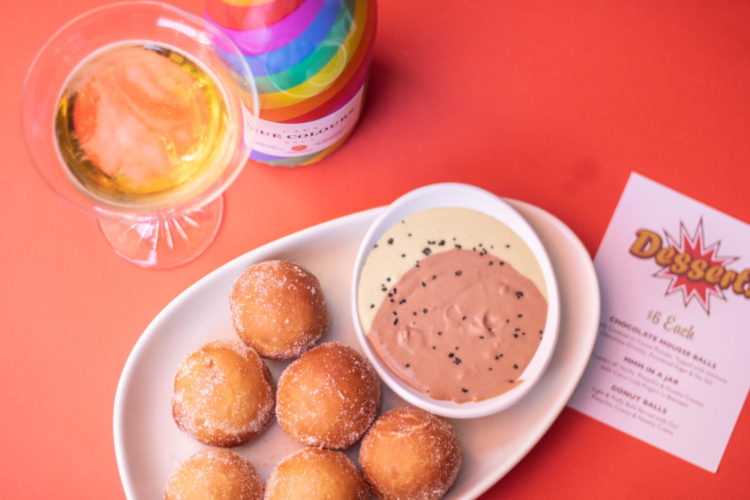 Pizza and pasta fans rejoice! Meat the Ball, a casual concept from Pomo Restaurant Group, is just opened its newest location at the Scottsdale Promenade (located on the southeast corner of Frank Lloyd Wright and Scottsdale Road). The retro-themed outlet is located in a corner space and features an open kitchen with bar seating and a large pet-friendly outdoor patio.
The menu emphasizes organic meat and grass-fed beef through its local partner Arcadia Meat Market and California-based Mary's Organic Chicken which boasts free-range chicken and GAP-certified farms. But have no fear…vegan, vegetarian and gluten-free diners can find plenty for themselves as well with cauliflower balls and more. An array of salads, pastas, Pinsa Romana and meatballs make up the menu while guests can order up single meatballs or a meatball flight.
To kick things off during a recent visit, a classic caesar salad with creamy dressing did just the trick before we dove into the buffalo chicken balls. The shareable appetizer comes with nine chicken balls nestled into a square dish and completely smothered in flavor-packed buffalo sauce and topped with a ranch drizzle. Pro tip: after all the balls have been eaten, keep the extra sauce for crust dipping goodness.
While there's a solid variety of pasta dishes, the linguine al pesto caught our eye and quickly won over our taste buds. The pasta was noticeably fresh and homemade while the vibrant pesto was just as impressive. The dish was topped with four organic chicken balls and pine nuts for a seriously simple, yet amazing meal. The classic marinara Pinsa Romana joined the party, topped with mozzarella, oregano and basil on a fresh focaccia crust that spent 72 hours leavening…yum!
To end the delicious meal, there was no resisting the doughnuts. Six doughnut holes are accompanied by a dish of Sicilian pistachio and Nutella mousse dipping sauces. –Suzanne Koch