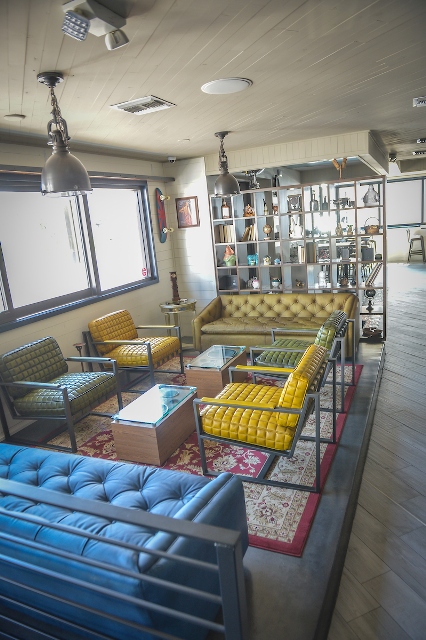 Who doesn't want to get off of work after a long day and head out for drinks and apps at a hot spot that looks plucked from a boardwalk? That feeling is a reality with the opening of Arcadia's new High Dive (from Square One Concepts, the folks behind Cold Beers & Cheeseburgers, Wasted Grain and Bourbon & Bones).
From the second you pull into the parking lot at High Dive, you are struck with the feeling that the restaurant with a bright-white exterior would look at home in San Diego steps from the beach with sand sprinkled on its floor. The vibe is laidback and welcoming; there is a large bar, oversized booths, high tops near the open-air portion of the restaurant and even a lounge area with games and tufted leather seating. The walls are filled with kitschy decor, album covers, retro beachy murals and movie posters. At every turn, there is something to see. Cocktails like the Passion Beach Punch and Arcadian Margarita drive home High Dive's chill, day-by-the-waves vibe.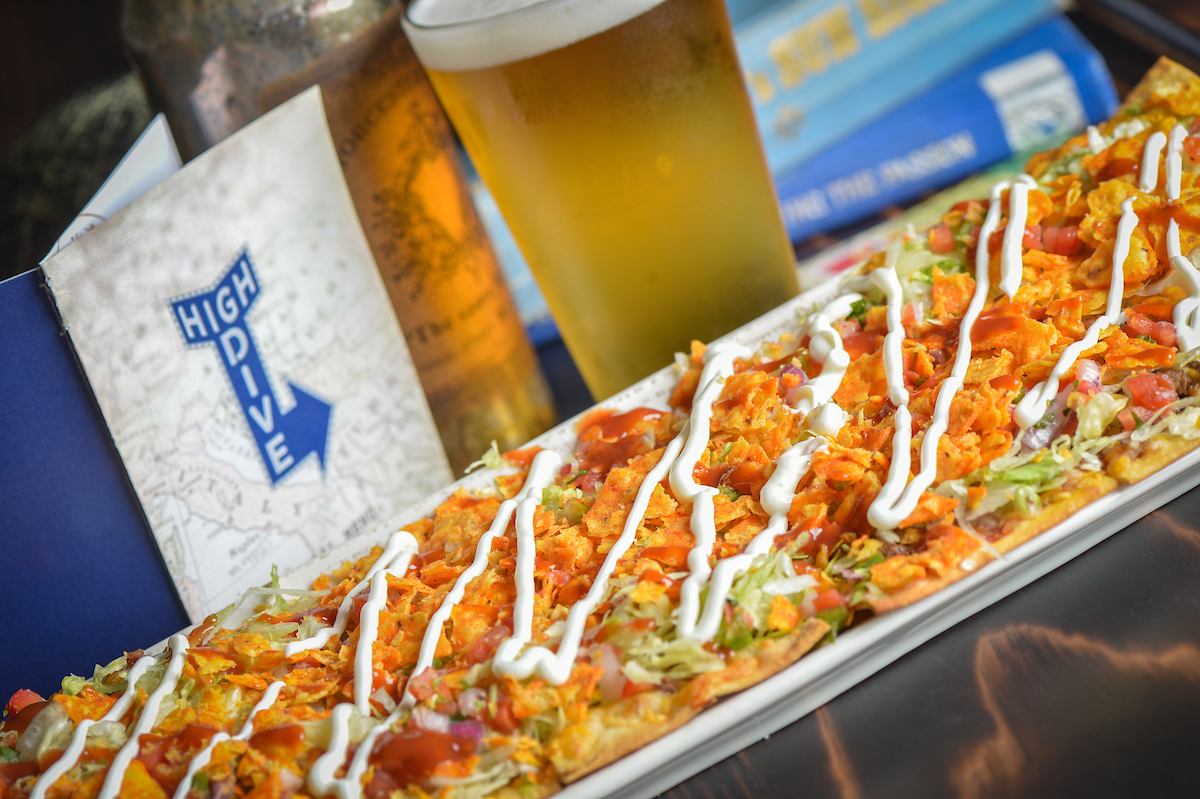 The menu is as comforting as the restaurant itself, full of elevated bar foods: burgers, salads, flatbreads and apps. The starter menu has two delicious standouts: Buffalo cheese curds and fried pickles. Before you order these, be warned: they are super addictive. (And before you dig in, before sure you have at least four diners as High Dive doesn't skimp on serving size.) The cheese curds are coated in buffalo sauce, offer a touch of spice, and are paired with–naturally–blue cheese dipping sauce. The fried pickles are crisp and light and oh-so tasty when dunked in the accompanying chipotle ranch.
The taco flatbread (pictured) came highly recommend, and we could taste why. The crispy flatbread (again, this could easily serve four or so) is topped with ground beef, a blend of cheddar/jack cheese, lettuce, pico de gallo, taco sauce and a sour cream drizzle. The real kicker in this dish is the bright orange sprinkling of crumbled Doritos that tops the flatbread. It is a simple touch but makes a big impact.
High Dive offers healthier options, too, if cheese curds and Doritos dust aren't your jam. Diners can choose from a vegan burger, a quinoa bowl and a selection of salads, including the popular Arizona salad.
High Dive opens at 3 p.m.; its closes at midnight Sunday through Thursday and 2 a.m. on Friday and Saturday.