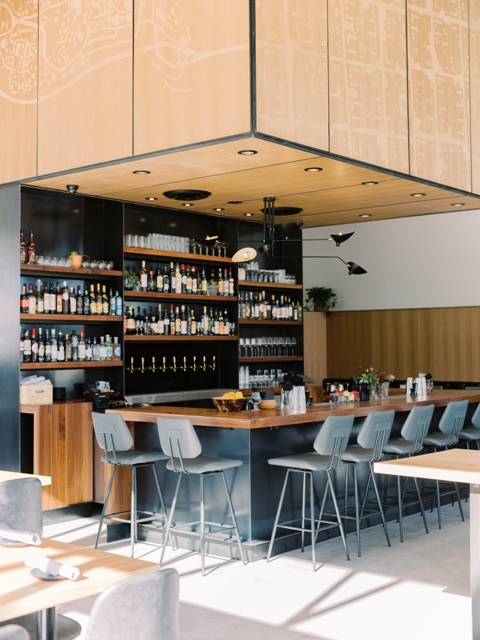 Just as Clever Koi makes waves within the Asian dining scene in the Valley, Fellow Osteria & Pizzeria, its sister restaurant from the Valley's Born & Raised Hospitality, is putting its own spin on authentic Italian eats.
Fellow opened last month at Phoenix's SkySong and hones in on the popular Italian osteria concept, which is basically a gathering, communal place. In the a.m., folks nearby can pop in Fellow for some stellar espresso from the coffee bar and pick up some grab-and-go dishes for their lunch hour; come 11 a.m., Fellow opens for lunch and then dinner. The space in open and airy with light woods and gray tones, yet still manages to be welcoming and comfortable thanks to dim lighting, comfy booths and a centerpiece bar that seems like the perfect spot to linger into the evening.
Much like at Clever Koi, drinks are part of the allure of Fellow. The bill is bursting with Italian-centric wines to complement the pastas and pizza. The ginger-y Zenzero is a favorite cocktail, with Banknote Peated Scotch, while the Secret Handshake, with Ron Zacappa Solera Rum and plenty of citrus accents, is a picture-perfect tipple for the winter.
The Fellow menu is neat and concise with a handful each of starters, salads, pastas and pizzas, following by a trio of heartier entrees. The dishes are meant to be shared like tapas, though the serving sizes are much more substantial. To start, the calamari is light and crispy, paired with an irresistible Romesco sauce. Next time, we're excited to try the octopus dish.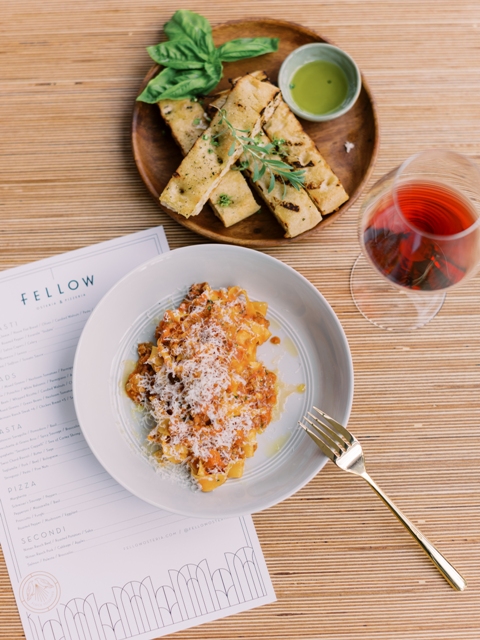 For an even lighter way to kick off the meal, the kale salad is delicious and chock-full of crunchy goodness by way of pistachios and delicate apple slivers. The salad is finished with the sweet-and-salty combo of raisins and Parmigiano. We would absolutely order this salad again with some chicken or salmon and call it lunch.
Fellow's pasta lineup is mighty impressive with most of the pasta coming straight from Italy. However, the duo of dishes we sampled–swiss chard ravioli and tagliatelle–were made in house. The ravioli is a warming, comforting wintertime dish simply accented with butter and fragrant sage. The tagliatelle is the heartier of the two dishes, served with a decadent pork and beef Bolognese. You might lick the plate clean–no judgement here.
The Secondi section features bowl-style entrees; we chose the Niman Ranch pork, cabbage and apples. The dish takes a very traditional dish that we're used to having a Grandma's house puts a unique, modern spin on it. The pork is tender and juicy, while the cabbage and apple slaw is crisp and refreshing against the savory meat.
For a sweet ending, Fellow has teamed up with Sweet Republic to offer a selection of top-notch ice cream flavors.
Fun fact: Fellow gets some of its ingredients from its on-site garden, located next-door to its awesome patio.