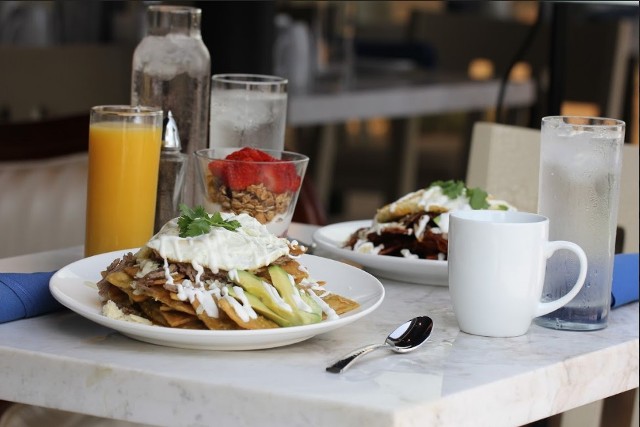 One of Old Town's most exciting newbies, Dorian, is now open seven days a week, including during breakfast from 7 a.m. to noon daily, which we had the chance to sample during a recent visit.
Upon entering Dorian, we were immediately taken with the space's glitz and glamour, including glistening light fixtures, tufted furniture, floral accents and velvet touches. Even with its high-end accessories, Dorian is still a comfortable spot for sipping mimosas after your morning yoga class.
We kicked off our a.m. feast on a lighter note with a peach parfait (blueberry and strawberry options are also available). The bright, fresh peach compote topped housemade granola and honey Greek yogurt, making for a sweet start to your day. Another lighter option is the no-frills avocado toast. You won't find edible flowers and avo swirls on Dorian's toast, though–but it is super yummy, so you won't miss the flourish. The thick slice of toasted Noble bread is topped with avocado, poached egg and–the kicker–delicious homemade saffron hollandaise sauce. You might want to ask for a second slice of break to soak up any leftover sauce.
If you're yearning for something hearty, the chilaquiles (pictured) will do the trick. The heap of tortilla chips, eggs, machaca, oaxaca cream, creme fraiche, avocado cream, salsa and your choice of green or red sauce (we picked the sweeter green sauce) will keep you full straight through to happy hour as it's hard to stop at just a few bites. We also hear the lemon cake pancakes are pretty decadent and delish if you're on mission for a satisfying breakfast.
In addition to its new breakfast offerings, Dorian has a slew of fun weekly specials. Come by on Wednesdays to receive a rose when you order a class of rosé. Then, come back on Thursday for Bubbles & Bourbon for a special Champagne and bourbon feature.