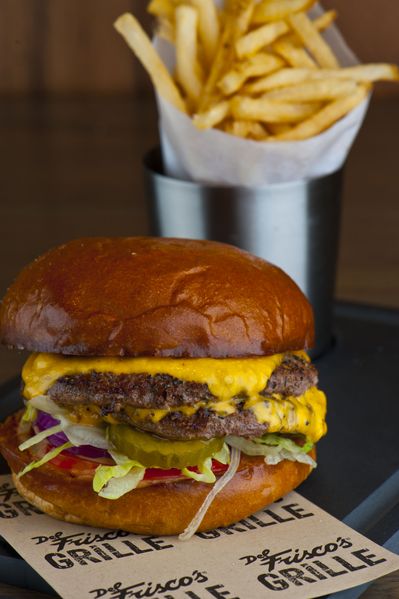 Phoenix's Esplanade has a new tenant that gives guests delectable fare and cocktails, a sleek atmosphere and one amazing rooftop dining experience. The Phoenix opening of Del Frisco's Grille is the third concept from Del Frisco's Restaurant Group.
Open for lunch and dinner, Del Frisco's Grille dishes up a large menu of eclectic fare. For starters, the Phoenix hot spot makes waves with its sweet-and-spicy cheesesteak eggrolls, which might sound odd but are quite delicious. Tiny and yummy ahi tacos, with spicy citrus mayo, and truffled deviled eggs, which are among the best we've tasted, also impress on the appetizer menu.
For lunch, the lamb burger is a winner. Topped with tzatziki sauce and sided with frites, the lamb burger is a healthier but equally-as-delish way to satisfy a beef burger craving. The veggie burger is a tasty offering for vegetarian diners.
For those craving something a bit lighter, Del Frisco's Grille has a large selection of salads, or "ruffage," to choose from. Or, if you're hankering for something hearty, the Phoenix restaurant's "Knife & Fork" menu has such tasty treasures as veal meatloaf, chicken schnitzel, chipotle three-cheese macaroni and more.
At dessert time, Del Frisco's shareable sweets are truly show-stoppers. The coconut cream pie is piled high with fresh whipped cream and white chocolate shavings and the larger-than-life six-layer lemon cake with lemon buttercream frosting and lemon glaze. Save room for these sweets.
When it come times for after-dinner drinks, head upstairs to Del Frisco's rooftop bar for jaw-dropping views. Even in triple-digit temps, the Summit Bar is the place to party thanks to state-of-the-art misters and plenty of shade. www.delfriscosgrille.com.