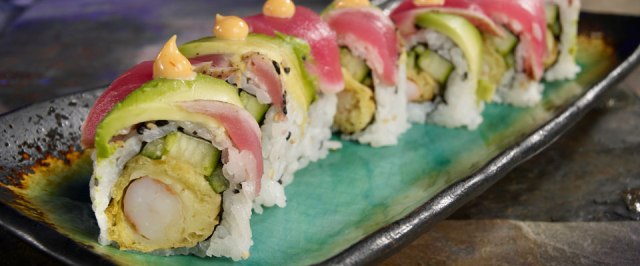 Sushi is hands-down one of my favorite foods. Though I'm happy with simple, straightforward sushi dishes, it is always fun to indulge in rolls that incorporate unique ingredients (with even more unique names and presentations). One such place to get sushi with character is Blue Wasabi, a locally launched restaurant that has two Valley locations (Scottsdale at Hilton Village and Gilbert at San Tan Village) and has just celebrated its eight birthday.
Blue Wasabi gets its edge by not just being a sushi restaurant, but a nightlife fixture, which is apparent in its sleek design. Blue Wasabi boasts an interior that has multiple dining levels, so you can see and be seen from nearly every spot in the house. The patio is also a prime spot for people-watching when the weather is nice. There are even a perks for the techie diners; Blue Wasabi guests have access to a menu iPad that shows extensive descriptions of menu items along with photos of each dish. Can't remember the name of that roll you had during your last Blue Wasabi stop? The pictures will jog your memory.
Now, I'm sure you're getting hungry. Start with the hearty macadamia-nut chicken or the traditional crab wontons, which are sided with a mmm-inducing apple-plum sauce. Both dishes are sure to make everyone at the table very happy. When it comes to the main event–the rolls–the Tropic Thunder, with panko-crusted shrimp, spicy crab and avocado topped with shrimp and pineapple salsa, is a customer favorite, possibly because it blends sushi with the Southwest. The zesty pineapple salsa is an especially yummy touch. For something really different, try the Italian-inspired Marco Rolo (shrimp tempura, jalapeño, cream cheese and cucumber topped with oba leaf, roasted tomatoes and a balsamic glaze). Though the marriage of jalapeño and balsamic might take a bite or two to get used to, you're sure to become addicted to the sweet tomatoes and glaze. Finally, the new Chuck Norris roll (spicy salmon and panko-crusted shrimp topped with sashimi salmon, avocado and fresh-squeezed lemon juice and togarashi) has enough frills to keep non-traditionalists happy but straightforward ingredients that even purists can enjoy.
To wash it all down, one of Blue Wasabi's impressive cocktails is in order. The Berry White is one of the most-ordered drinks, thanks to its fruity, is-there-really-alcohol-in-there flavor. (Plus, you can get if half-price during Blue Wasabi's awesome happy hour.)
Before it's time to say goodbye, stick a spoon in the chocolate rainbow roll, a delighful cocoction of vanilla ice cream and chocolate ganache topped with fresh fruit. What a happy ending. www.bluewasabisushi.com.