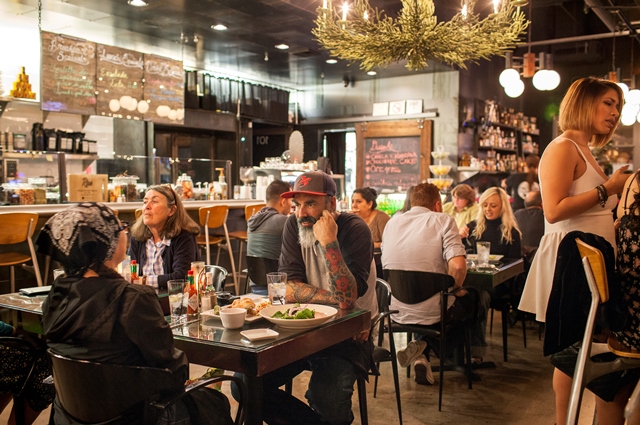 We are longtime fans of Silvana Salcido Esparza. We even named her an Arizona Foothills Magazine Woman Who Moves the Valley 2013. So we were very excited when she opened a new spot at The Yard: Barrio Urbano. Barrio Urbano dishes up breakfast (Chef Esparza's first foray in serving breakfast), lunch, dinner and beyond-amazing cocktails by Colton Brock.
During our dinnertime visit, we were impressed by the beautiful colors and vibrancy of the space. Much like Chef Esparza's flagship spot, Barrio Cafe, Barrio Urbano is decked in beautiful artwork and murals (some of which was created by Brock). To start, we enjoyed two incredible tequila-based cocktails, crafted with Casamigos Tequila. The old-school OG, made with Damiana, fresh lime and powdered sugar, is so very good and offers a bit of tang. The Tequila Daisy is perfect for spring, very floral with Cointreau, powdered sugar and fresh lemon.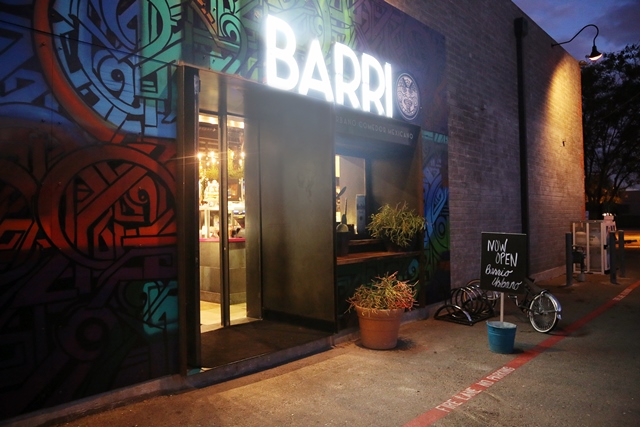 The menu features some of Chef Esparza's classics as well as plenty of new eats that her fans are sure to love. The Barrio guacamole–created tableside–is nothing out of the ordinary but that doesn't mean it isn't completely delicious and impossible to stop dipping. Plus, we love the addition of crunchy pomegranate seeds. Another fine starter is the grilled corn, which has been shucked and topped with spicy aioli, butter, queso cotija, Tapatio sauce and fresh lime. We order the corn to be served over spicy fries. The dish offers just enough spice and is extra bright and tasty with a sprinkling of lime juice.
Recommended by the server, we were very impressed by the Enchiladas Suizas con Longaniza. The hearty plate comprised corn tortillas filled with Oaxaca cheese and chicken breast, finished in a tomatillo jojoque crema, Schreiner's longaniza sausage and veggies. The dish is rich and filling, bursting with spicy and savory flavors. For a lighter entree, the tacos al pastor, which are new to the menu, is a yummy combo of sweet and savory. The tacos are piled with al pastor pork (there is no skimping on the meat here), onion, cilantro, grilled pineapple and avocado slices. Burritos, tortas, quesadillas, salads and more also fill the Barrio Urbano menu.