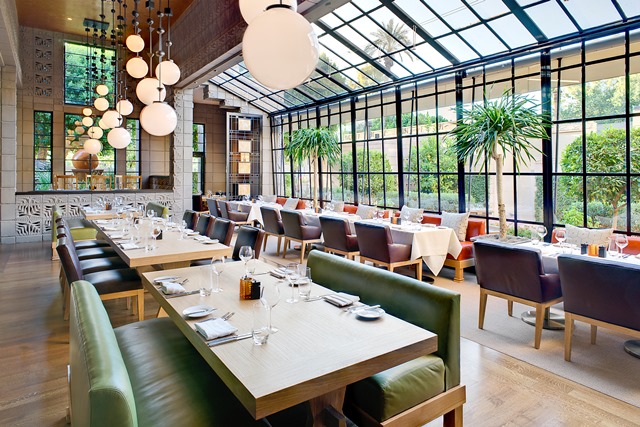 The Arizona Biltmore is celebrating its 25th year of hosting Winemaker Dinners with its most extensive season ever. The 2014/2015 season spotlights 11 extravagant culinary evenings, plus prize drawings for the first time.
Held in the resort's historic signature restaurant, Wright's at The Biltmore, the Winemaker Dinners combine innovative gourmet dining, acclaimed wines and winemakers discussing their wines with after-dinner drinks and cigars. Diners will also have the opportunity to win bottles of wine and a stay or dining at the Arizona Biltmore.
Each Winemaker Dinner will feature multi-course menu prepared by Executive Chef Gordon Maybury and Chef de Cuisine Colin Rupp, paired with specially selected wines of a noted vintner. This season will feature wineries in California and Italy. Diners will learn about the wines from representatives of the wineries, and enjoy cigars and Port or other favorite after-dinner drinks on Wright's patio.
The dinners start with a reception at 7 p.m., followed by dinner at 7:30 p.m. The cost is $105 per person per dinner. Tax and 18 percent gratuity are additional. Reservations are required by calling 602.955.6600.
September 4, 2014: Heitz, Napa Valley
September 17, 2014: Michele Chiarlo, Piedmont, and Tenuta San Guido, Tuscany, Italy
October 2, 2014: Justin, Paso Robles, California
November 6, 2014: Stag's Leap, Napa Valley
December 4, 2014: Domaine Carneros Winery by Taittinger, Napa Valley
January 8, 2015: ZD Winery, Napa Valley
February 4 , 2015: Cakebread Cellars, Napa Valley
February 5, 2015: Cakebread Cellars, Napa Valley
March 5, 2015: Truchard Vineyards, Napa Valley
April 2, 2015: Robert Mondavi Winery, Napa Valley
May 7, 2015: Sequoia Grove, Napa Valley