Impress family and friends with these tempting wine-infused Turkey Day recipes (plus pairings) from SIMI Wines in Sonoma Valley.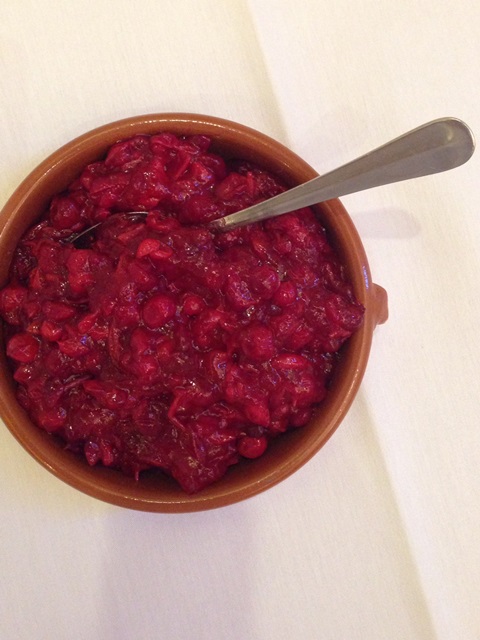 Cranberry Riesling Compote
*Pairs with the SIMI Sonoma County Pinot Noir
1 lb. cranberries
1 cup sugar
1/3 cup apple juice
3 T lime juice
1/3 cup orange juice
1 pinch salt
1 sheet gelatin, soaked in ice water
4 tablespoons Simi Riesling
Combine all ingredients and place over medium heat. Bring to a boil. Remove from heat and let cool. Store in refrigerator. Serve with a roast meat like roast turkey or chicken.
Polenta with Spiced Tomato Fondue
*Pairs with the SIMI Landslide Cabernet Sauvignon
5 tablespoons olive oil
¼ cup onion, minced
1 cup large cracked polenta
5 cups water
2 teaspoons Kosher salt
2 cups grated parmesan cheese
In a saucepan, heat 4 teaspoons olive oil. Stir in onion and sauté over medium heat until translucent. Stir in polenta and coat with olive oil, cooking until the polenta is heated. Whisk in boiling water and return to a boil. Add salt to season the water. Place uncovered in a 350 degree oven for 50 to 60 minutes or until most of the water is absorbed. Remove from oven and add parmesan cheese and whisk until well blended.
Tomato Fondue Ingredients:
24 tomatoes, blanched, peeled and seeded
3 medium onions, peeled and finely chopped
2 cloves garlic, crushed
¼ cup olive oil
1 star anise
½ tsp cinnamon, ground
½ tsp coriander seeds
1/8 cup sherry vinegar
Salt to taste
Chop the tomatoes and set aside in a bowl and reserve the tomato juice. In a pan, sweat the onions, garlic and spices in the olive oil over medium heat. Cook until tender. Add reserved tomatoes and juice. Bring to a boil and then reduce to a simmer and cook for approximately 30 minutes.
Add the sherry vinegar and continue to cook for 1 to 2 hours.
To serve:
Place polenta in serving dish and place tomato fondue over top. Sprinkle some grated parmesan cheese on top.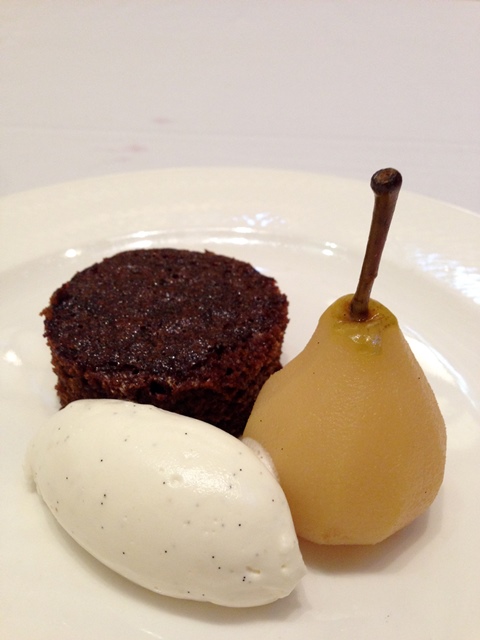 Gingerbread Cake with Poached Pear
*Pairs with the SIMI Sonoma County Chardonnay
3 cups sugar
3 cups molasses
1 ½ cups oil
9 eggs
2 ½ teaspoons salt
1 tablespoons ground cloves
1 tablespoons ground ginger
½ tablespoon ground nutmeg
6 cups flour
2 tablespoons baking soda
3 cups boiling water
Powdered sugar
In a bowl, combine sugar, molasses, oil and eggs. Whisk together. Combine salt, spices, flour and baking soda. Stir into molasses mixture. Gradually pour in boiling water. Mix until combined. Pour into a cake pan that has been lined with parchment paper. Bake at 325 degrees for 40 to 45 minutes. Let cool and cut into serving portions.
Poached Pear Ingredients:
1 cup white wine
3 cups water
1 cup sugar
2 teaspoons ground cardamom
4 whole cloves
2 cinnamon sticks
4 lemon strips (2" x ½" long)
2 tablespoons lemon juice
1 vanilla bean, split lengthwise
6 pears, Bartlett, comice, medium ripe, peeled, halved and cored
In a large saucepan, combine, wine, sugar, cardamom, cloves, cinnamon stick, vanilla bean, lemon rind and juice. Bring to a boil and add the pears, return to a boil and simmer pears until a skewer can easily pierce the pears. Cool in liquid and refrigerate until needed. Remove pears from liquid and place next to gingerbread cake. Reheat the poaching liquid and drizzle over the cake and pears for added flavor.