Plan on packing a picnic or hosting a barbecue this weekend in celebration of Memorial Day? Here are some tasty, warm-weather recipes from The Food Network and its star chefs that would make for delicious additions to your long Memorial Day weekend.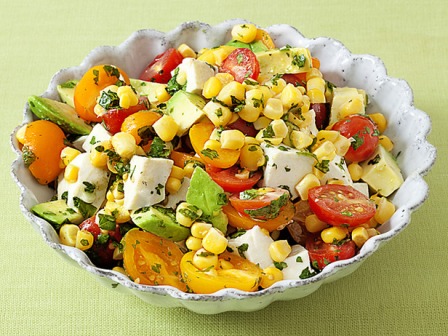 Corn, Tomato and Avocado Salad
by Aida Mollenkamp
For the dressing:
1 1/2 C Packed fresh cilantro
1/2 C Good-quality extra-virgin olive oil
2 T Fresh lime juice
1 T Finely grated lime zest
Kosher salt and freshly ground pepper
For the salad:
4 ears Corn, kernels removed (about 3 cups)
1 1/2 pounds Grape tomatoes, halved (about 3 cups)
1 pound Fresh mozzarella, diced
2 medium Avocados, diced
Combine the dressing ingredients in a blender, using two teaspoons salt and pepper to taste; process until smooth. Combine the salad ingredients in a large bowl and toss with the dressing. Let sit at least 15 minutes before serving, or cover and refrigerate for up to four hours.
Photography by Kate Sears


Cola Barbecue Sauce
4 cloves Garlic, peeled
1/4 tsp. Kosher salt, plus a generous pinch for the garlic
3 C Cola
1 1/2 C Ketchup
1/4 C Cider vinegar
2 T Worcestershire sauce
1 Slightly heaping tablespoon chili powder
1 tsp. Freshly ground black pepper, plus additional for seasoning
1/2 tsp. Hot sauce, plus additional for seasoning
1/4 tsp. Ground allspice
1 1/2 T Freshly squeezed lime juice
Smash the garlic cloves; sprinkle with a generous pinch of salt and, with the flat side of a large knife, mash and smear mixture to a coarse paste. Stir garlic paste, the 1/4 teaspoon salt, cola, ketchup, vinegar, Worcestershire, chili powder, one teaspoon black pepper, 1/2 teaspoon hot sauce and allspice together in a small saucepan. Bring to a boil, reduce heat, and simmer until thickened, about 45 minutes. Allow to cool slightly, stir in the lime juice, and season with black pepper and hot sauce, to taste.


Prairie Rub
3 T Firmly packed light brown sugar
3 T Dried Italian seasoning
2 T English-style dry mustard
2 T Granulated garlic
2 T Sweet paprika
1 T Ground ginger
1 T Minced dried orange peel
2 tsp. Kosher salt
1 tsp. Pumpkin pie spice
1 tsp. Freshly ground black pepper
1/2 tsp. Cayenne pepper
Mix brown sugar, Italian seasoning, mustard, garlic, paprika, ginger, orange peel, salt, pumpkin pie spice, black pepper and cayenne in a bowl. Pulse in a spice grinder in a few batches until finely ground. Seal in an airtight container and store in a cool, dry place for up to two months.


Margarita Melon Salad
by Rachael Ray
2 Limes, juiced
2 shots Tequila
2 T Orange liqueur
3 tsp. Sugar
1/2 Cantaloupe, seeded and cubed
1/4 Honey dew melon, seeded and cubed
1/4 Small watermelon, cubed
*Many markets sell halved melons and wedges of watermelon, making it easy to prepare this salad closer to desired amounts.
Combine lime juice, tequila, liqueur and sugar in a bowl. Add melons and toss to coat with tequila and lime. Serve in shallow bowls.