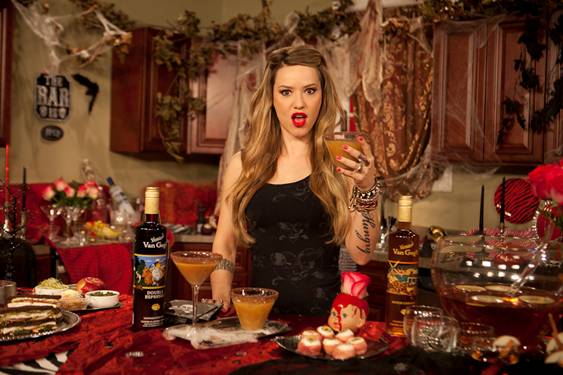 The Cooking Channel's Nadia G of "Nadia G's Bitchin' Kitchen" shows that Halloween drinks and eats don't have to be all about gummy eyeball candy and red-dyed syrup. Here, this super-rad television host and cook provides sophisticated yet spooky (think coffin-shaped sandwiches!) recipes for your Halloween shindig.
Smoky Chipotle Bloody Mary
2 ounces Van Gogh BLUE Triple Wheat Vodka
2 tablespoons fresh horseradish
1 teaspoon chipotle paste
½ teaspoon Worcestershire sauce
Tomato juice to top
½ a lime to garnish
Fresh lime to rim a glass
Celery salt to rim a glass
Run a wedge of fresh lime around the top of a lowball glass, then dip glass in celery salt to create rim. Add all the ingredients in a glass and mix. Fill glass with ice. Garnish with freshly grated horseradish and squeeze of half a lime.
Yield: 1 serving
Prep Time: 5 minutes
Ease of Preparation: Easy
Tootsie Roll Cocktail
1 ½ ounces Van Gogh Double Espresso Vodka
3 ounces orange juice
Fresh orange wedge
Finely grated chocolate
Run the wedge of fresh orange around the top of a lowball glass, then dip in finely grated chocolate to create rim. Fill glass with ice. Pour all the ingredients over the ice and stir.
Yield: 1 serving
Prep Time: 3 minutes
Ease of Preparation: Easy
Caramel Apple Punch
2 ½ cups Van Gogh Dutch Caramel Vodka
3 cups old-fashioned apple juice
4 cinnamon sticks
1 bottle (750 ml) sparkling apple cider, chilled
2 apples, thinly sliced
Place apple juice in small saucepan with cinnamon stick. Bring to a boil, then take from heat and let cool. Fill a large punch bowl with ice. Pour in Van Gogh Dutch Caramel Vodka and cooled apple juice with cinnamon sticks. Top with sparkling apple cider and float apple slices on top as garnish.
Yield: 12 servings
Prep Time: 10 minutes
Ease of Preparation: Easy
Bocconcini Eyeballs
Eyeballs:
• 8 large green olives stuffed with pimento
• 8 Bocconcini cheese balls
• 8 slices Prosciutto di Parma
Side:
• Balsamic vinegar
• Sea salt
• Freshly cracked pepper
Making the eyeballs: slice olives into 1/4-inch discs. Place an olive disc in the center of a bocconcini and trace around it with a sharp paring knife. Carve out a 1/2-inch piece of cheese from the outline and place olive slice in the hole. Wrap a slice of prosciutto around the bocconcini eyeball. Drizzle balsamic vinegar on a black plate and place eyeball on top. Season with salt and pepper.
Yield: 8 servings
Prep Time: 5 minutes
Cook Time: –
Ease of Preparation: Easy
Mini Olive Oil and Ricotta Pound Cakes with Chocolate-Covered Orange Peel
1 1/2 cups all purpose flour
2 1/2 teaspoons baking powder
1/2 teaspoon salt
1/3 cup and 1 tablespoon of Italian extra virgin olive oil
1 1/2 cup of whole milk Ricotta cheese, room temperature
1/4 cup of unsalted butter, room temperature
1 1/4 cup of organic cane sugar
1 vanilla bean, scraped
Zest from 1 orange
3 eggs
1 tablespoon unsalted butter, room temperature
1 3.2 oz orange peel flavored chocolate bar, chopped
Making the batter: sift flour, baking powder and salt in a medium-sized mixing bowl. With a hand mixer on low, whip together olive oil, ricotta, butter, sugar, vanilla seeds, and orange zest just until combined. Add dry ingredients and continue to beat for another 3 minutes until it's light and airy. Drop eggs into mix session one at a time. Drop in chocolate bits and stir with a spatula until they are evenly spread in the batter. Preheat oven to 350˚F. Butter an 8-cup holder mini loaf pan. Pour batter into mini loaf pans and bake for 40-50 minutes. Use a toothpick to insert into pound cakes until it pulls out clean. Allow the cakes to cool in pans for about 10 minutes, transfer to a wire rack to cool fully.
Yield: 8 servings
Prep Time: 20 minutes
Cook Time: 40 – 50 minutes
Ease of Preparation: Easy
Vegetarian Coffin Sandwiches with Walnut Pesto
Pesto:
• 2 cups of basil, packed
• 1/2 cup chopped walnuts
• 2 cloves of garlic, minced
• ¼ cup walnut oil
• 1/4 cup parmesan, grated
• 2 tablespoons of olive oil
Sandwiches:
• 1 large loaf pumpernickel bread
• Mayonnaise
• 1 cup almond slivers, toasted
• 2 cups alfalfa sprouts
• 8 McIntosh apples, sliced
• 8 slices brie
Making the pesto: in a processor pulse basil, walnuts, garlic, and walnut oil until combined. Add parmesan and olive oil and pulse again. Making the sandwich: cut pumpernickel into 1/2-inch slices, then into coffin shapes. On each slice of bread, spread a layer of mayo, a layer of pesto, a sprinkling of almonds, alfalfa sprouts, a layer of apples, and a slice of brie. Place another coffin-shaped bread slice on top and repeat for another layer. Top off with a final coffin slice.
Yield: 4 servings
Prep Time: 8 minutes
Cook Time: 3 minutes
Ease of Preparation: Easy