Did you know that July is National Ice Cream Month? Did you know that former President Ronald Reagan designated July as National Ice Cream Month in 1984? Don't you think that every month should be ice cream month? I digress. To celebrate this mmm-worthy month, Blue Bell has offered to share two delectable summer-friendly recipes featuring its newest flavor: Blue Bell Nutty Chocolate ice cream. The rich new variety features rich chocolate ice cream loaded with milk-chocolate coated pecans, dark-chocolate coated peanuts, white-chocolate coated almonds and roasted walnuts. See Nutty Chocolate ice cream in action in the Cool Summer Sandwiches and Summer Snowballs recipes below.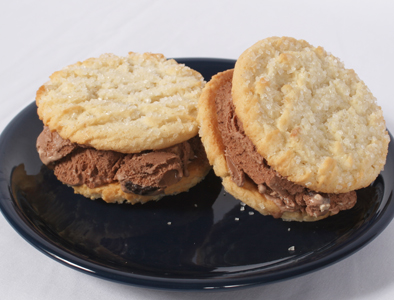 Cool Summer Sandwiches
2 Cookies, homemade or purchased
1 scoop Blue Bell Nutty Chocolate Ice Cream
Place one scoop of ice cream on the flat side of one cookie. Place the flat side of the other cookie on top of the ice cream. Press gently so that the ice cream fills the space between the cookies. Use enough ice cream to keep the cookies about ½ inch apart. The sandwich can be eaten immediately or wrapped in plastic wrap and frozen for up to 24 hours. If frozen, let stand at room temperature 5-10 minutes before serving. Makes one serving.
Note: If serving a crowd, make sandwiches ahead of time using a variety of cookies and serve on a chilled platter. Cookie suggestions: chocolate chip, white chocolate macadamia, snickerdoodle, chocolate wafers, pecan or walnut shortbread, peanut butter, almond cookies, double chocolate and Lorna Dunes.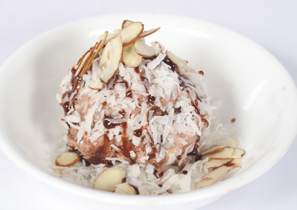 Summer Snowballs
1 C Shredded sweetened coconut
4 Rounded scoops Blue Bell Nutty Chocolate Ice Cream (approximately ½ to 2/3 C each)
4 T Chocolate dessert topping
4 tsp. Finely chopped roasted almonds
Finely chop coconut in a food chopper of food processor. Place in a small shallow dish. Roll ice cream scoops in coconut to completely coat (scoops may be prepared ahead of time and placed on a waxed paper-lined plate, covered with plastic wrap and stored in freezer for up to 24 hours). Place each scoop in a small chilled dessert bowl. Drizzle each scoop with one tablespoon chocolate sauce and sprinkle with one teaspoon almonds. Serve immediately. Makes four servings.
Blue Bell also recently released Groom's Cake ice cream with chocolate ice cream, chocolate cake pieces and chocolate-coated strawberry hearts, surrounded by swirls of strawberry sauce and chocolate icing; quart-size flavors; and two flavors on a stick: mint chocolate chip bars and chocolate chip cookie dough bars. For more yummy recipes, visit http://bluebell.com/.