Yesterday, we brought you a yummy stuffed acorn squash recipe from Jill and Meghan Carle's new cookbook, College Vegetarian Cooking (http://www.randomhouse.com/crown/tenspeed/). Here are two more healthful recipes that your favorite student is bound to gobble up: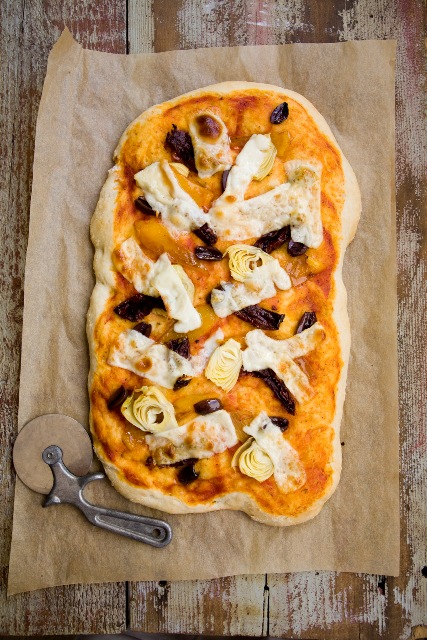 Pizza
Makes 2 (8 by 14-inch) pizzas; serves 10
5 C all-purpose flour
2 T sugar
2 (1/4-ounce) packages active dry yeast
1 tsp. salt
2 C warm water (about 105° to 115°F)
1/4 C canola oil
3 cloves garlic
1 tsp. Italian seasoning
1 (15-ounce) can tomato sauce
4 C topping ingredients (optional)
4 C grated mozzarella cheese
Preheat the oven to 375°F. Stir together the flour, sugar, yeast  and salt in a large bowl. Make a well in the center of the fl our mixture and add the water and oil. Stir until completely combined. Coat your hands in fl our to prevent sticking and spread half of the dough into an 8 by 14-inch rectangle in the center of each of 2 large ungreased baking sheets. Peel and finely chop the garlic or pass it through a garlic press. Stir the garlic and Italian seasoning into the can of tomato sauce. Spread half of the sauce onto each crust. Spread the topping ingredients over the sauce and sprinkle with the mozzarella cheese. Bake for 20 to 25 minutes, or until the crust is golden brown.
Cooking 101
Pineapple, olives, peppers, mushrooms, spinach—everyone has his or her favorite pizza toppings. Most are pretty self-explanatory, but any vegetables should be cleaned before you use them. They should also be chopped fairly thin so that they cook all the way through by the time the rest of the pizza is ready. Make Hawaiian-style pizza with diced pineapple and soy ham or try a more authentic Italian pizza with ricotta cheese, spinach, fresh basil, and tomato.
Pasta with Broccoli and Caramelized Onions
Serves 4
2 onions
2 T vegetable oil
1 bunch broccoli
1 pound uncooked salad
macaroni or other small pasta
1/4 C sliced almonds
1 T balsamic vinegar
Salt and pepper
Peel the onions and cut into thin slices. Place the oil and onion in a large skillet and cook over medium heat for 20 to 25 minutes, or until the onions are golden brown. Remove from the heat and set aside. While the onions are cooking, cut the florets from the broccoli and discard the stems. Bring a large pot of salted water to a boil and add the pasta. Cook over medium-high heat, stirring occasionally, for eight minutes, or until al dente. After the pasta has been cooking for four minutes, add the broccoli florets to the pasta water for the remainder of the cooking time. Drain the pasta and broccoli in the colander. Add the drained pasta and broccoli, almonds, and balsamic vinegar to the pan of onions and mix well. Season with salt and pepper and serve immediately.
"Reprinted with permission from College Vegetarian Cooking: Feed Yourself and Your Friends. Copyright © 2009 by Megan Carle and Jill Carle, Ten Speed Press, A division of Random House, Inc., Berkeley, CA. Photo Credit: Penny De Los Santos."