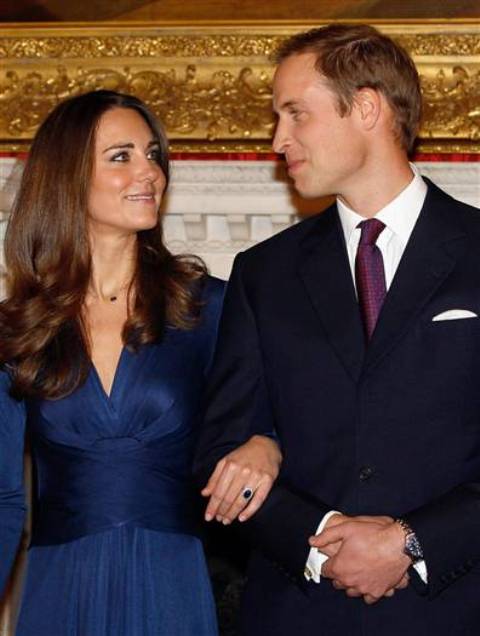 On April 29, one of the most highly anticipated weddings of all time will take place–the union of Prince William and Kate Middleton. Valley residents can get in on the celebrating by hosting a royal wedding feast with a menu created by Chef Michael DeMaria.
Devonshire Eggs
12 Large Eggs
4oz Cream Cheese
1tsp Yellow Mustard
2tsp Half & Half
Salt and Pepper (to taste)
Hard boil eggs for 11 minutes (approx). Allow eggs to cool then remove shells. Cut eggs in half lengthwise, reserving the yolks.
In mixer blend the cream cheese until soft. Add yolks, mustard and half & half. Add salt and pepper to taste. Whip until smooth.
Pipe mixture into cooled eggs.
Lamb Stew
3 1/2lbs Lamb Shoulder, cut into 2" pieces
6 cloves Garlic, crushed
1 sprig Fresh Rosemary
1/2 cup Dry White Wine
2tbsp evoo
2 large Onions, peeled and chopped
2 large Carrots, peeled and chopped
1 large Potato, peeled and chopped
Salt and Pepper
2tsp Sweet Paprika
3 Roasted Red Peppers, cut into 1/2" strips
1 large Tomato, peeled, seeded and chopped
4‐6 sprigs Fresh Parsley, chopped
1 Bay Leaf
1/2 cup Dry, Full‐Bodied Red Wine
1/2 cup Chicken Stock
Combine lamb, three garlic cloves, rosemary, white wine in medium bowl to marinate for three hours. Drain meat, discard marinate, pat dry with paper towels. Mince remaining three garlic cloves and set aside. Heat olive oil in large pan over medium‐high heat. Brown the meat on all sides (approx 10 minutes). Add onions, carrots, potato, minced garlic, salt & pepper and cook. (approx five minutes) Stir in paprika, roasted peppers, tomatoes, parsley, bay leaf and red wine. Bring to boil, reduce heat to medium and simmer for 10‐15 minutes. Add chicken stock, cover, reduce heat to low and simmer (stirring occasionally) for 2 ‐ 2 1/2 hours until meat is very tender.
Bangers and Mash
2lbs Sausage (beef or chicken)
2lbs Yukon Gold Potatoes, peeled & diced
Kosher Salt
4tbsp Unsalted Butter, diced
4oz Sour Cream
1/2cup Whole Milk
2tsp Whole‐Grain Mustard
1tsp Dry Mustard
1tsp Freshly Ground Black Pepper
Fresh Parsley
1/4 Savoy Cabbage, thinly shredded
1 large Red Onion, thinly sliced
2 Bay Leaves
2tbsp evoo
1 bottle New Castle Brown Ale
Preheat oven to 425 degrees. Bake sausages for 18‐20 minutes or until cooked through. Boil potatoes in large saucepan with pinch of salt for 20‐25 minutes until very tender. Drain potatoes and return to saucepan. Add butter, sour cream, milk, dijon mustard, dry mustard, 1tbsp salt and pepper. Mix until smooth and creamy. In saucepan heat evoo, onions, bay leaves, salt and pepper until onions are caramelized. Add beer and cabbage and braise until cabbage is wilted (approx 30 minutes). To serve, spoon potatoes onto dish, add braised cabbage and top with sausage. Garnish with fresh parsley.
Fruit Cake
1 cup Unsalted Butter
1/2 cup Light Brown Sugar
1/2 cup Dark Brown Sugar
3 Large Eggs
3tbsp Brandy (plus extra for brushing cake)
Juice and Zest of 1 Orange
Zest of 1 Lemon
3/4 cup Ground Almonds
1 cup Hazelnuts, Walnuts, Pecans or
Almonds, chopped
1 1/2lbs Asst Dry Fruits (apricots, figs, prunes, glace cherries)
3/4lb Asst Raisins, Currants, Cherries
and/or Cranberries
2 cups All‐Purpose Flour
1tsp Baking Powder
1/4tsp Salt
Preheat oven to 325 degrees. Prepare 8" Spring Form pan with spray/butter of your choice. Using mixer beat butter and sugars until light and fluffy. Add eggs, mixing continuously. Add brandy, juice and zest. Fold in ground almonds, chopped nuts, dried and candied fruits. In separate bowl whisk together flour, salt, baking powder. Add dry mixture to mixer with cake batter and blend thoroughly. Pour blend into spring form pan and bake for 1 hour. Reduce oven temperature to 300 degrees and continue to bake for another 1.5 hours. Remove cake from oven and brush with brandy.