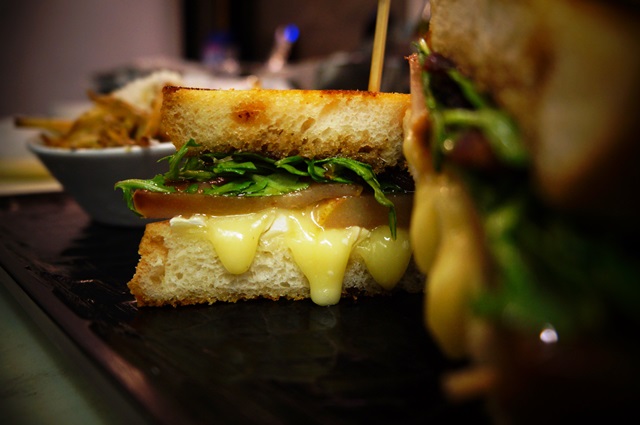 Whether you want to give the kiddos a real treat while they're home from school this winter break or you want to surprise holiday guests with a gussied-up interpretation of two classic eats, you must give this P.B. & J Grilled Cheese a go. The recipe is courtesy of Executive Chef Brian Feirstein of Union Barrelhouse in Scottsdale (set to open in January 2014).
P.B. & J Grilled Cheese (Pear, Brie and Jam)
Serves 4
8 Sour Dough Bread Slices (1/2 inch Thick)
1T. Butter
1lb Triple Cream Brie, sliced ¼ inch Thick
.5lb Red Wine Poached Pears
1 C Bacon Jam
8oz Wild Arugula
Salt and Pepper To Taste
Heat a nonstick pan or griddle over medium heat. Spread butter on one side of each slice of bread. Place bread in the pan with the buttered side down. Place sliced brie on one slice of the bread. Place ¼ cup of bacon jam on the other side of the bread. Cook until the bread is golden and the cheese is melted. While the cheese is melting, mix the arugula with 1 t of bacon jam, salt and pepper, reserve. Once the cheese is melted, place sliced pears on the melted cheese. Place the dressed arugula on top of the pears. Put the top slice of bread with the bacon jam on the arugula to form the sandwich. Slice in half and serve.
Red Wine Poached Pears
2 Bosc Pears
1 cup Red Wine
2 Cinnamon Sticks
2 Whole Cloves
Slice pears 1/4 inch thick. Bring wine, cinnamon, and cloves to a simmer in a small sauce pan. Once simmering, add pears to the pan and turn off the heat. Allow the pears to steep in the wine, while cooling. Reserve for later.
Bacon Jam
1lb. Thick Cut Pepper Bacon, cut into lardons
½ Cup Brown Sugar
1 Yellow Onion, Diced
1 Cup Red Wine Vinegar
½ Cup Maple Syrup
Heat a small sauce pan over medium heat. Cook bacon until completely rendered and crisp. Add onion to the pan and cook until completely soft. Deglaze with red wine vinegar and reduce by half. Add sugar and maple syrup into the pan and cook for approximately 15 minutes or until thick. Puree using a food processor and cool completely. Reserve.