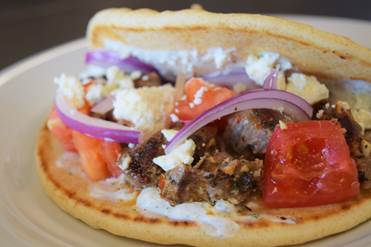 If the name Chef Kody Harris sounds familiar, that is because it Harris is the former corporate chef with Thirsty Lion. Recently, Chef Harris broke out on her own with Ahwatukee's Fresko, a Mediterranean concept that features traditional recipe passed down through her family's generations (think Greek favorites like spanakopita, keftedes and souvlaki). Here, try Chef's delectable Lamb Souvlaki for yourself.
Lamb Souvlaki (Meat Only)
Yield: 3 pounds
Ingredients:
3 lbs. leg of lamb, cut into 1-inch by 1-inch cubes
½ cup extra virgin olive oil
1 cup lemon juice
2 tbsp. garlic, chopped
1 tbsp. dried oregano
2 tsp. dried basil
1 ½ tsp. Kosher salt
1 ½ tsp. black pepper
1 tbsp. Aleppo pepper flakes

Lamb Soulaki Pita
Yield: 1 pita
Ingredients:
4 oz. cooked lamb souvlaki
1 pita
1 oz. tzatziki sauce
1 oz. Roma tomatoes, diced
½ oz. red onion, julienned
1 oz. feta cheese
For the souvlaki, trim and cut lamb into cubes. Place remainder of ingredients in a bowl and mix well. Place lamb in marinade and let marinade for 8 hours minimum. Place lamb on a wooden skewers and grill until cooked through and slightly charred. For the pita, place pita on stovetop to warm. Once warm, spread tzatziki sauce on entire pita. De-skewer the lamb and place in the middle of the pita. Garnish with tomatoes, onions and feta to taste. Fold pita and enjoy.