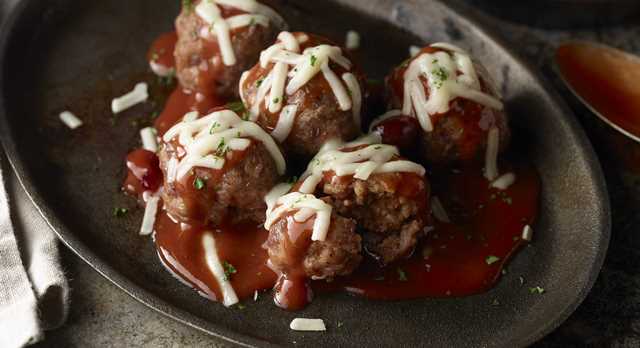 Are your holiday leftover dwindling and you need to nourish your in-town guests? Try this hearty helping. Courtesy of LongHorn Steakhouse, dish up these bison and beef meatballs, in a cranberry-BBQ sauce and finished with white cheddar cheese.
2 pounds of ground bison meat
Salt
Pepper
4 cups of barbecue sauce
1 14 oz. can of whole cranberry sauce
2 cups of cranberry juice
2 cups of white cheddar cheese, shredded
Place ground bison meat into a mixing bowl. Season with salt and pepper. Roll bison meat into small meatballs – approximately 1 inch in size. Grease a baking sheet with a small lip. Place meatballs approximately one inch apart on the baking sheet. Preheat the oven to 350 degrees and bake the meatballs for 15-20 minutes or until they reach an internal temperature of 155 degrees. Pour barbecue sauce in a large sauce pot on medium heat. Add cranberry sauce and cranberry juice. Mix well to combine. Heat sauce for about 5 to 10 minutes, or until warmed through. Place meatballs in a shallow pan and toss in barbecue sauce. Place meatballs on an oven-safe ceramic platter and sprinkle with white cheddar cheese.Broil in oven for approximately 3 to 4 minutes or until cheese is melted. Remove from oven.
Recipe makes approximately 32 meatballs.