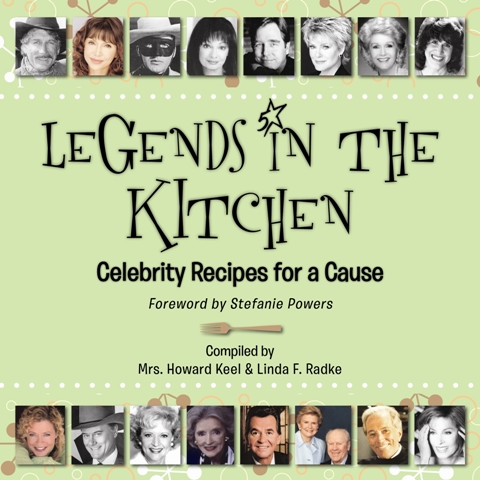 Chandler-based Five Star Publications just released a new cookbook, "Legends in the Kitchen: Celebrity Recipes for a Cause," that spotlights recipes from some of your favorite celebrities. Apart from dishing out divine recipes, a portion of the proceeds from "Legends in the Kitchen: Celebrity Recipes for a Cause" will benefit the Motion Picture & Television Fund. Here are a few tasty recipes to get you started:
Betty White's Crunchy Pie
Beat three egg whites until stiff
Add 1 tsp. baking power
Fold in one scant cup granulated sugar
Fold in 11 single graham crackers (crushed)
Fold in one cup chopped walnuts
Put in greased pie plate and bake in 350-degree oven for 1/2 hour.
Let cool and top with whipped cream or ice cream.
Beau Bridges' 'Great Guac' Guacamole
Makes 3 cups
2 ripe avocados
1/2 cup fresh tomato salsa
1/2 cup sour cream
2 scallions, thinly sliced
1/3 cup canned chopped green chilies
1/3 cup chopped ripe olives
1 Tbsp fresh lemon juice
1 small garlic glove, minced
Cut avocados around middle lengthwise, then twist to separate into halves. Remove pits and scoop avocado out of skins into a medium bowl with a large spoon. Mash coarsely with a fork. If salsa has a lot of liquid, drain it so it doesn't think the dip. Add salsa, sour cream, scallions, green chilies, olives, lemon juice and garlic to the mashed avocados. Mix well. Cover with plastic wrap directly on surface of guacamole and refrigerate until serving time. Because of the ingredients added to the guacamole, the dip holds its color well, even if prepared in advance.
Burt Reynolds' Beef Stew
3 Tbsp olive oil
2 lbs lean beef, cut into 1-inch cubes
Flour (enough to cover beef)
Salt and pepper to taste
1 tsp sugar
A few dashes of MSG
1 onion, chopped
1 clove garlic, minced
1/2 can beef broth or water
1 bay leaf
Pinch of thyme
1 six-ounce can of tomato sauce
1 cup dry burgundy wine
2 carrots, coarsely chopped
2 stalks of celery, coarsely cut
2 large potatoes, cut into quarters
1/2 cup fresh mushrooms
Salt and pepper beef and dredge in flour. Brown beef in olive oil, turning often. Add a little oil if necessary. Sprinkle lightly with sugar. Add onion and garlic and brown lightly. Add tomato sauce, broth or water, wine, bay leaf and thyme. Cover and cook slowly for about 90 minutes. Add carrots, celery, potatoes and mushrooms. Uncover and cook until meat and vegetables are tender.
"Legends in the Kitchen: Celebrity Recipes for a Cause" can be purchased at Barnes and Noble, Borders, Target, Wal-Mart, Amazon and http://www.indiebound.org/.