I am always looking for something to jazz up my cooking routine–from the simple things like making a cheese plate more special to ways to spruce up meat and seafood dishes (come to think of it, what a great New Year's resolution!) I think I have found just the thing: Vino Cotto sweet cooked wine syrup, by Montillo Italian Foods. Vino Cotto is a naturally sweet cooked grape syrup, with hints of plum and raisin, that has long-been known as vincotto through Italy. Even with its sweet flavor, Vino Cotto is healthy and contains no alcohol. A few ideas of how to incorporate Vino Cotto into your culinary repetiore.
• Easily prepare gourmet meat, poultry, seafood and vegetable dishes.
• Create delectable sauces, marinades, balsamic vinegar
and salad dressings.
• Drizzle over aged cheeses.
• Top your favorite ice cream and cakes.
• Enhance baked desserts.
Here's a great seasonal recipe to get you started.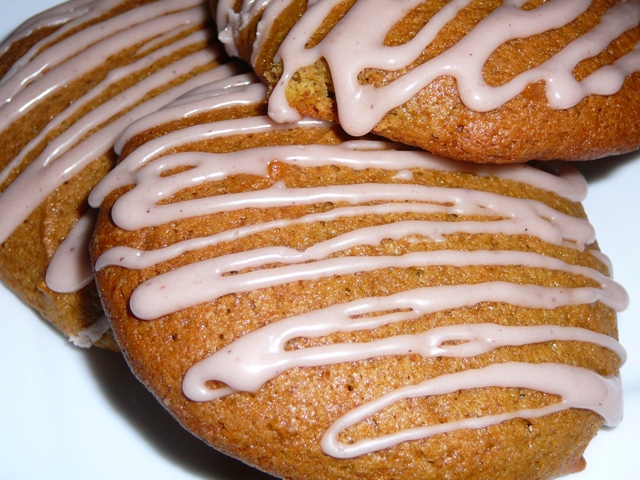 Vino Cotto Pumpkin Soft & Chewy Cookies
2½ cups all-purpose flour
1 tsp. baking soda
1 tsp. baking powder
1/8 tsp. ground cinnamon*
1/8 tsp. ground nutmeg*
½ tsp. salt
1½ cups granulated sugar
½ cup margarine (1 stick), softened
1 cup Libby's 100% Pure Pumpkin
3 oz. Vino Cotto di Montillo
1 large egg
1 tsp. vanilla extract
* For a cookie with more of a spiced flavor, increase cinnamon to 1 tsp. and
nutmeg to ½ tsp.
Icing (optional)
2 cups sifted powdered sugar
1½ tablespoons Vino Cotto di Montillo
1½ tablespoons milk
1/8 tsp. cinnamon (optional)
1/8 tsp. nutmeg (optional)
1 tablespoon melted butter
1 tsp. vanilla extract
Preheat oven to 350°F (177°C). Using PAM No-Stick Cooking Spray, evenly coat baking sheets. Lightly wipe surface with napkin or paper towel. Combine flour, baking soda, baking powder, cinnamon, nutmeg and salt in medium bowl. Beat sugar and butter in large mixer bowl until well blended. Add pumpkin, vino cotto, egg and vanilla. Beat well. Gradually add flour mixture and beat until cookie batter is smooth. Drop by rounded tablespoon onto prepared baking sheets, leaving a 1¼" space between each. Bake for 15-20 minutes or until edges are golden brown. Allow to cool on baking sheets for 2 minutes. Place cookies on wire racks to completely cool.
If icing is desired, combine all icing ingredients shown above in a small bowl. Mix until smooth. If icing is too thick, add 1-2 teaspoons more of milk to desired consistency. Drizzle or spread evenly over cooled cookies.
Vino Cotto Sweet Cooked Wine Syrup is available for about $16 at http://www.vinocotto.us.