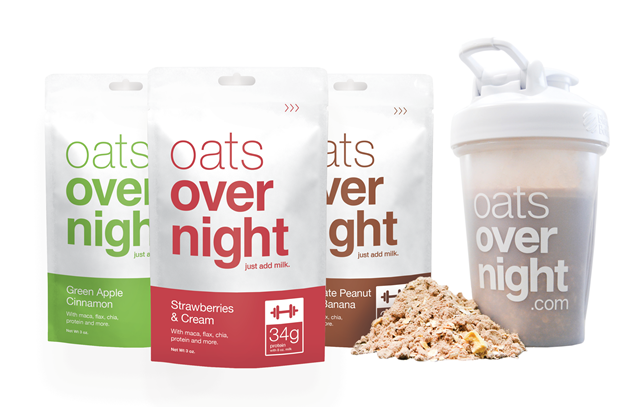 Overnight oats have been the breakfast rage for some time now. They are easy, inexpensive, versatile and make eating breakfast on busy mornings a breeze. Now, overnight oats are even easier and more filling with the introduction of Oats Overnight, from Tempe-based duo Brian Tate and his friend Jeff Yauck.
Oats Overnight are pre-measured, healthy packages of oats in flavors like Green Apple Cinnamon, Chocolate Peanut Butter Banana and Strawberries & Cream, flavors that are a real treat. (Chocolate for breakfast? Yes, please.) In addition to oats, Oats Overnight also feature nutritious ingredients like chia seeds, flax seeds and maca root-enriched protein (each Oats Overnight actually has as much protein as five large eggs). And, best of all, whipping up your breakfast is a snap. Simply pour milk and the Oats Overnight package in the provided Blender Bottle, shake it and refrigerate overnight before enjoying. So for those of you who don't consider yourselves to be breakfast people–that you don't have the time–the ease of Overnight Oats means you are out of excuses not to have a healthful, delicious breakfast.
Oats Overnight are available at www.OatsOvernight.com in a Starter Pack ($18) which includes one of each flavor and a Blender Bottle and in 12 ($45) and 24 ($85) pack boxes.