Tucson Tamale is a favorite of Food Network's Alton Brown and Rachael Ray, and Valley dwellers are lucky enough to have this delicious gem in our own backyard. When it comes to making your holiday-cooking plans, be sure to consider some of the traditional (and out-of-the-box) offerings from the Tucson-based company and restaurant. (In addition to being available at AJ's Fine Foods, the tamales can also be ordered online here.)
We recently had the chance to sample some of the Tucson Tamale goods. Here are a few of our favorites: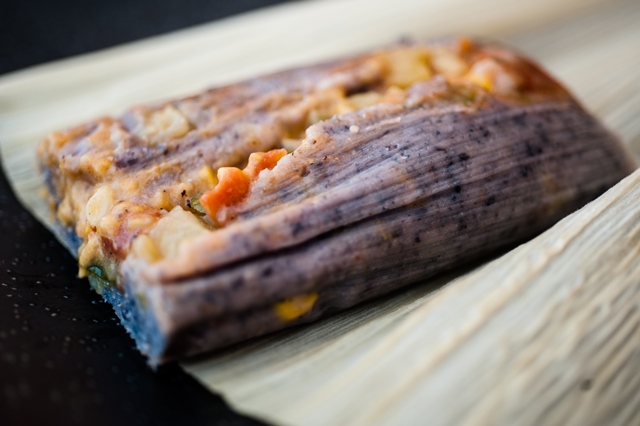 Blue Corn & Veggie (pictured above): These vegan, veggie-packed handmade tamales, which are full of summer squash, organic sweet corn, tomato and Hatch  green chile, are so fragrant and beautifully spiced that they deserve a spot on your holiday table. (They seriously taste like Christmas in each bite.) Plus, kiddos will get a kick out of the blue corn masa.
Green Chile & Cheese: These ooey gooey gluten-free tamales are filled with spicy Hatch roasted green chiles and delicious melty cheese. Though they offer a bit of a spicy kick, the sweet corn masa is a delicious balance.
Green Chile Pork & Cheese: Similar to the green chile and cheese tamales, these pack in antibiotic- and hormone-free slow-cooked pork, resulting in a heartier, smokier tamale. Plus, they are gluten-free.
Jalapeno & Cheese: Heat seekers will adore these spicy tamales, featuring melty cheese and fire-roasted jalapenos. The heat is settled down by the yummy sweet corn masa.