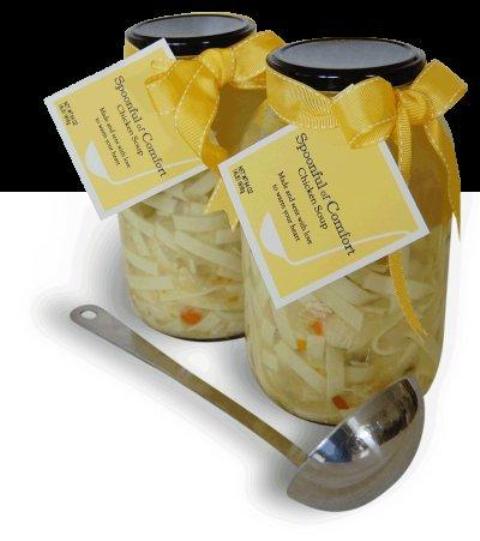 It's nearly impossible not to get through the winter with at least a case of the sniffles. Spoonful of Comfort has developed a genius–and darn delicious–way to send your get well wishes to your family and friends. Spoonful of Comfort's old-fashioned, homemade chicken soup that can be sent to an ailing loved one anywhere in the country. They use all-natural ingredients to create their divine soup: chicken stock, chicken, pasta noodles, carrots, celery, onion, parsley, salt and pepper. There are no additives or preservatives. With great care, the soup is prepared in small batches and then jarred up and sent out upon order.
Each 64-ounce jar comes beautifully packaged and ready to enjoy. Really, your sick loved one will just have to heat and eat. The jar is even accompanied by a lovely beautiful silver ladle. And I urge you to order the fresh rolls and homemade oatmeal cookies to accompany the soup–they are both so delicious.
And you'll be making more than your loved one feel better. Spoonful of Comfort supports a wide variety of charitable organizations. A portion of the proceeds from your purchase of Spoonful of Comfort Chicken soup will go to The American Cancer Society. American Cancer Society's mission is to prevent cancer, save lives, and diminish suffering from this disease. Your proceeds will immediately support lifesaving cancer research, education, advocacy, and patient service programs. The soup is $32. www.spoonfulofcomfort.com.