Not only can I not get enough of this local company's clever name–Pork on a Fork–but I can't get enough of its farm-fresh goods either. Pork on a Fork was formed by Nebraska's Wes Hansen and Justin Erickson, who were raised on hog farms (so they should know a thing or two about pork, right?). And lucky for Valley dwellers, the guys now live in the Valley and sell their goods locally, at both farmer's markets and via http://porkonafork.foodzie.com/.
Among it's selection of pork products are several types of bratwurst including the newest flavor, jalapeno-cheddar, as well as garlic, pineapple, bacon-cheddar and tomato-basil brats. Pork on a Fork also sells amazing bacon (like the finger-licking good peppercorn bacon), pork chops, sausage, pulled pork, ham steaks, sausage patties and more. To be honest, I'm typically not a huge lover of most pork products. However, Pork on a Fork's brats are definitely the best I've ever bit into. So delish!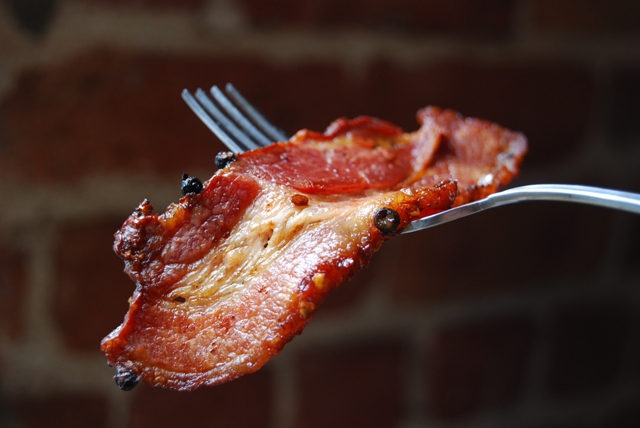 Since Valentine's Day is right around the corner, I'd recommend hitting up Pork on a Fork for some a little breakfast in bed surprise. There's even a breakfast meat package for sale, with sausage links, sausage patties and bacon, to make it even easier on you.