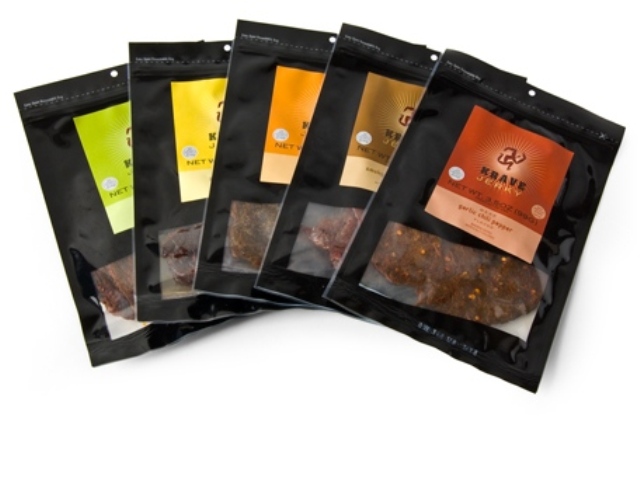 I love a good surprise. And the best kind of surprises are when a seemingly mundane, everyday food makes a turn for the fancy. Such is the case with Krave Jerky. Krave Jerky aims to take a seemingly junk food and transform it into a a healthful, high-end snack item. Nutritionally, per each 1 ounce serving, Krave contains only 70 calories, 1.5 grams of fat, 9 grams of carbohydrates and at least 5 grams of protein. Due to its recipes, meat selection and cooking process, Krave's products are materially lower in salt, cholesterol and calories than other beef jerky brands and are 97 percent fat free.
Apart for its nutritional highlights, Krave delivers in the flavor category. Thinking outside of the peppered and teriyaki flavor box and offers such incredible flavors as basil-citrus gourmet turkey jerky, chili-lime gourmet beef jerky, curry beef jerky, garlic-chili-pepper gourmet beef jerky, lemon-garlic turkey jerky, pineapple-orange gourmet beef jerky, smoky grilled teriyaki gourmet pork jerky, sweet honey-chipotle gourmet beef jerky. Whether your're in the mood for sweet, savory, spicy or smoky, Krave offers a flavor for just about every palate.
If you can't decide on which Krave flavors to sample first, the company offers a Krave Klub, a program that allows one to select five jerky flavors to be shipped to their home every month for $30 (shipping is included). 
Krave Jerky is  available throughout Arizona at AJ's Fine Foods, Beverages & More, Total Wine & More, and Cost Plus World Market. Krave Jerky can also be purchased at http://www.kravejerky.com/ for $7 per bag. The Web site also allows you to sign up for Krave Club, as well as search wine pairings and cocktail recommendations.