In this week's Grocery Great segment, guest writer ForXx divulges her favorite granola and suggestions for milk pairings.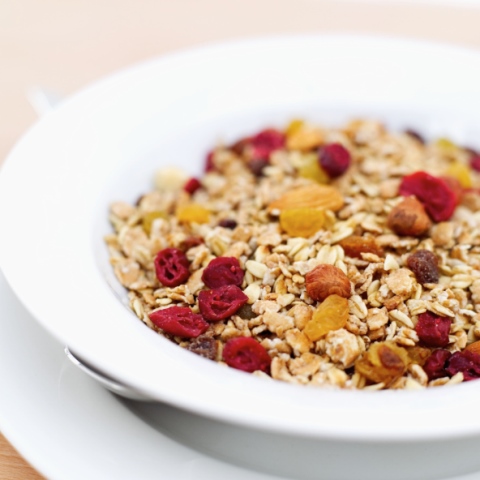 "Nourish What Counts." That's the slogan on the back of the Quaker Natural Granola cereal, chock-full of oats, honey and almonds. The Quaker Granola cereals, overall, are pretty good but my favorite is with the almonds. It holds it's crunch for a long time and is bursting with flavor. Without milk, it acts as a great topping for yogurt or a small scoop of ice cream. I hear a lot about how almond milk can be substituted for regular milk to add flavor, so I gave it a quick test.
Almond milk is only 90 calories. It's really sweet on the granola cereal and changes the weight of the cereal to a thick oatmeal texture. My recommendation is to not to add almond milk to a cereal with any kind of sweetness.
Shamrock Fat Free milk, my favorite, is also 90 calories, and it was perfect. The honey flavor was able to shine, and the oats stayed flavorful with crunchy almonds. With 34 whole grains per serving, which is a half cup, you never blink at the 200 calories it offers.
Whole milk didn't complement the oats either. It changed the consistency of the cereal weighing it down and allowing it to settle into a mushy thickness.
In order to get the best flavor, I suggest keeping it simple. This cereal would probably taste great with water, it's that good. My grocery great choice of milk for this cereal, definitely fat free or skim. Enjoy!