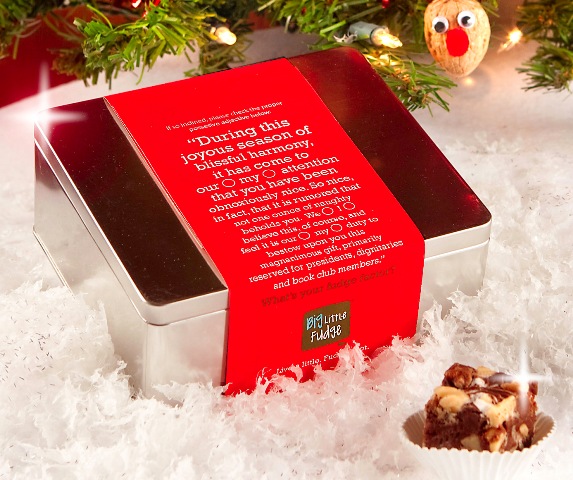 Working at a magazine allows you a few perks–one especialy delicious perk is a special fudge delivery to the office. Big Little Fudge–a Texas-based fudge company that made its national debut this fall–impressed with its varied flavors and sleek packaging. Apart from being mighty tasty, each order of Big Little Fudge comes packaged in a modern tin, wrapped in a fun sentiment band. (Take a peek at the holiday sentiment band above; perfect for a holiday hostess gift.) Each tin is about $24 for 12 peices.
Big Little Fudge flavors (two holiday flavors will be released as well):
'Nut'orious (chocolate walnut)
Heavyweight Champ (chocolate, cranberry, walnut)
Mega Maple Nut (maple walnut)
Chubby Chunk A Lot (white chocolate, dark chocolate chunks and pecans)
Hunka Chunka (chocolate, cherries and pecans)
Colossal Cookie Crunch (cookies and cream)
Choc A Lot (chocolate fudge)
Big League (chocolate, peanut butter and caramel)
Big Softy (rocky road)
Coconutalot (chocolate, coconuts and almonds)
Chubby Butter Nut (English almond toffee)
The Great Divide (chocolate and peanut butter)
The Great Pumpkin (pumpkin)
The Great Pumpkinut (pumpkin and walnuts)
To sweeten the deal, Big Little Fudge donates partial proceeds from its fudge sales to charity. The fudge can be ordered at www.biglittlefudge.com.