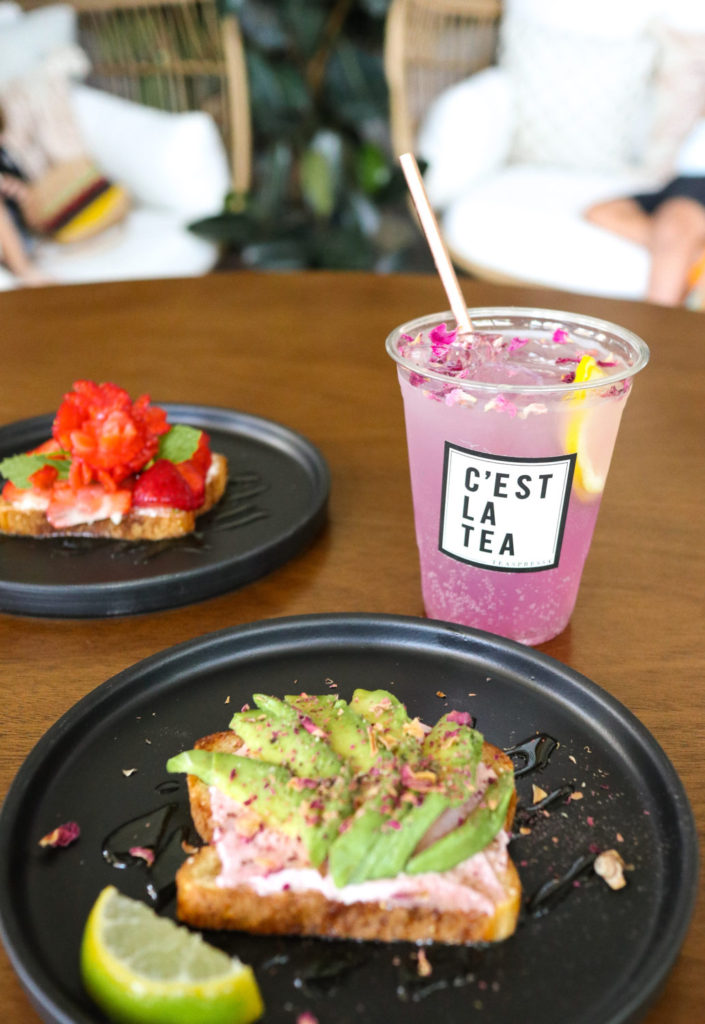 In honor of National Breast Cancer Awareness Month, these Valley eateries are raising funds and awareness for breast cancer charities locally and beyond.
Teaspressa has released its specialty barista-crafted Pink Drink that will benefit the National Breast Cancer Foundation Inc.'s Arizona chapter. For each Pink Drink purchased at Teaspressa's cafes during October (Arcadia and Downtown Phoenix locations), $1 per drink will be donated. Made using Teaspressa's patented brewing process, the Pink Drink features Teaspressa's Signature Green Gold Tea Blend, fresh passion fruit puree, a drizzle of white chocolate, a shot of beet juice and Teaspressa's signature Rose Luxe Flavor Elixir for a refreshing, uplifting tropical flavor jam packed with vitamins and antioxidants.
Luci's Urban Concepts has partnered with local nonprofit to raise funds for women battling breast cancer. All October, a portion of every 32-oz. Kiwi Strawberry Iced Tea, Tumbler and Hat sold will benefit the nonprofit, Don't Be a Chump! Check for a Lump! This fundraiser will take place at Luci's Healthy Marketplace, Luci's at the Orchard and the newest Scottsdale location, Luci's at the Grove. On Monday, Oct. 14, from 7 to 11 a.m., the Mobile On-Site Mammography by Simon Med Imaging will come to Luci's at the Orchard to provide women with mammography screenings. The first 16 non-insured women will receive a free mammogram sponsored by Don't Be a Chump, Check for A Lump. To schedule an appointment, call 480.967.3767. Walk-ins are also welcomed. Bring your insurance card, doctor's name and address and location of prior mammogram images. The recommended baseline age is 35 to 40.
One dollar from every Cowgirl Steak sold in October at Maple & Ash will be donated to local nonprofit, Wigged Out. Wigged Out is dedicated to assisting residents of the Phoenix metropolitan area and surrounding regions who are in need of a wig, hairpiece, hair accessories, etc. due to the effects of a documented medical condition.
Rainforest Cafe has set a goal to raise $40,000 for the Breast Cancer Charities of America by featuring Chloe Rosé at all locations throughout the month of October. From Oct. 1 to Oct. 31, a portion of proceeds from every bottle of Chloe Rosé sold at Rainforest Cafe will be donated to the Breast Cancer Charities of America.
Throughout October, all three Thirsty Lion Gastropub & Grill will be offering three featured drinks–a specialty Tito's Vodka cocktail, Wycliff sparkling rosé and Prophecy rosé–to benefit breast cancer awareness. Two dollars from each drink sold will be donated to the Breast Cancer Research Foundation, a nonprofit that funds cancer research.
Donate $1 to breast cancer awareness and Uptown Alley will add $2 in game play to an existing game card. All funds raised at Uptown Alley will be donated to local nonprofit Singleton Moms, an organization that helps single parents with cancer.
Ocean Prime has colored its popular Coconut Cake pink, the signature color of Breast Cancer Awareness, for the entire month. For every slice of this limited-time-only Pink Coconut Cake sold throughout the month, Ocean Prime will donate $1 to the Virginia Piper Cancer Center.
Twin Peaks is partnering with the American Cancer Society Making Strides Against Breast Cancer Phoenix chapter to raise money to help those affected by breast cancer. Guests can donate $5 to put their name or someone else's name on a pink post up on the wall or bid on the silent auction sports memorabilia. All money raised will stay local and go to the Phoenix group.
Throughout the month of October, Sushi Roku at W Scottsdale will be donating a portion of the proceeds from its specialty Save A Pair cocktail made with prickly pear and served with a pair of macaroons. With a vibrant pink color and rich flavors of prickly pear, apricot and strawberries, this cocktail is garnished with a bouquet of baby's breath flowers to represent those who have beat cancer.