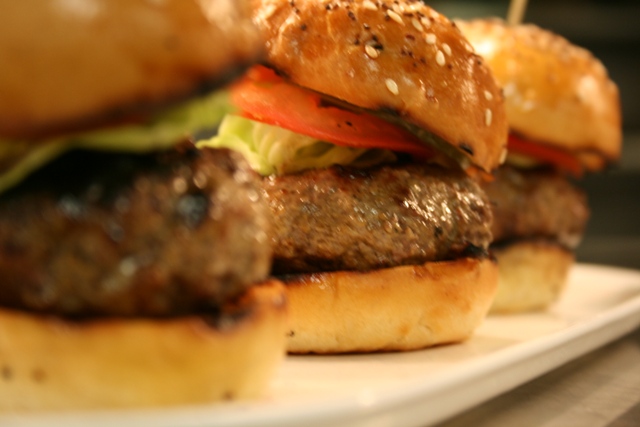 Rejoice, Valley burger lovers: One of Phoenix's top spots for amazing patties and buttery buns, The Grind, has refreshed its menu to offer even more divine burgers as well as new sandwiches, salads and even options for late-night dining and drinking.
Two new burgers join The Grind's selection of top-notch burgers: Turkey Burger with Charred Sweet Onions, Tomato and Wild Arugula ($10) and a Mushroom Burger with Roasted Wild Mushrooms, Swiss and Wild Arugula ($12). There are also several new cheeses now on The Grind's menu to top those burgers.
Even those who aren't in the mood from a burger have new menu items to choose from: Roast Chicken Wrap with Oven Roasted Tomato Pesto, Fresh Chevre and Local Organic Greens ($10) and Chicken Salad with Shredded Chicken, Wild Arugula, Grapes, Roasted Pine Nuts, Celery, Rosemary Dressing and Grilled Bread ($9).
The late night dining menu will be offered from 10 p.m. to close daily. It will feature Chips and Dip with Spinach Tortilla Chips and Fresh Tomato Pesto ($3), Quesadilla on a Spinach Tortilla with Oven-Roasted Tomato, Charred Onions and Cheese ($5), Fundido made with Queso, Chorizo, Tomato and served with Grilled Baguette ($7), Onion Rings ($5), Sweet Potato Fries and Herb Fries ($4), Mac & Cheese ($6), Tempura Meatballs ($6), "All-Nighter" sandwich served on an English muffin with house bacon, ham, cheddar and fried egg ($9), Warm Doughnuts with Salted Butterscotch ($6) and House Bread Pudding ($6).
To wash down all this deliciousness is The Grind's updated cocktail list, which now includes Blood Orange Cosmopolitan made with Ketel One Vodka, Grand Marnier, Cranberry Puree, Fresh Blood Orange Juice and Lime ($10), Knickerbocker made with Bacardi OakHeart Rum, Grand Marnier, Chamboard, Raspberry Syrup, Fresh Muddle Raspberries and Lime ($10) and the Old Fashioned dating back to 1880, made with Gentlemen Jack Rare Tennessee Whiskey, Angostura Bitters, Muddled Luxardo Gourmet Cherry, Orange Slice and Sugar Cube ($10). http://www.thegrindaz.com/.